Every family has a story about its origin, about how mom and dad met. Ours is the story of the three keys. In the summer of 1996 I arrived in Oslo to study Norwegian language and literature at the university. At the student dormitory Sogn studentby, I got three keys from three different rooms to choose from. On the same day Remco arrived from the Netherlands to do a semester in European law and he too got three keys. The student home has about thirty multistory buildings, with five to six rooms on every floor, so what were the odds that the two rooms we picked would be almost next to each other, with just one room in between them, sharing a kitchen and a bathroom?

Naturally, we spent a lot of time together. Being together was, from the beginning, always easy and comfortable. We walked all around the city, exploring Oslo, finding new favorite places and cheap ethnic food stores. Remco, the eternal optimist, started planning a future together just weeks after we started dating. I, the pessimist, was thinking how awkward sharing a kitchen would be if we broke up after a month. In this case, as in many others later, his optimism turned out to be justified: we've been together for almost 17 years now, married for close to 15.
For many years we've been talking about traveling to Oslo, to revisit our happy memories. It always seemed to be too complicated, too expensive, too difficult to organize. But this year when we got a week off parental duty with both kids at their grandparents', we started plotting again. Then generous friends offered we could spend a night in their summer house in Sweden which made the long journey a lot easier and more pleasant. We booked a hotel in our old neighborhood, just about a ten minute walk from our old dormitory. And then on Monday afternoon, after almost 17 years, we were suddenly really in Oslo again.
Oslo is probably the greenest capital in Europe and if I had to live in a large city, Oslo is the place I would choose. The T-bane (the metro, which goes underground in the center, but is otherwise above ground) will take you in 30 minutes from the center of the city to the woods (the likes of which you will not find in the whole of the Netherlands) with plenty of opportunities for hiking in summer and skiing in winter. Likewise, from the center you can take a boat (public transportation) to one of the islands in the fjord where you can go swimming.
After doing some math, we decided to get the Oslo Pass for 72 hours, which gave us free entrance to almost all museums and free use of public transport plus a mini cruise in the fjord. The pass for 72 hours costs 535 Norwegian crowns and we calculated that on the things we ended up doing, it saved us more than 400 NOK (almost 50 Euro). Plus it was nice just being able to hop on a bus or a tram when our feet got sore from all the up- and downhill walking we're not used to any more.
Here are some of the things we did and that I would recommend if you visit Oslo:
Bygdøy
Bygdøy is a peninsula that can be reached from the center either by bus or by a boat. The Norwegian king has a farm there where horses are kept and there are several museums there as well. We visited the «Folkemuseum" with historical buildings from all over Norway, including one of the famous wooden churches called "stavkirke".

Next to it is the Viking ship museum, with three Viking ships the scale of which makes you marvel how people could cross the ocean on them?
And than you go to the Kon-Tiki museum that shows the balsa raft that the Norwegian explorer and adventurer Thor Heyerdahl built and sailed on from South America to Polynesia to prove his theory that the islands could have been populated from there and that seems even madder, especially considering that Heyerdahl not only had no experience with sailing but was also afraid of water and could not even swim. I have been to the museum before but after seeing the recent Norwegian film about Heyerdahl's insane adventure, I looked at the tiny raft with different eyes. Right now I am even reading his book about Kon-Tiki and it is no less fascinating.

Speaking of explorers, there is one more museum not to be missed: "Fram", which houses the somewhat bigger ship used on polar expeditions. You can walk on board and have a look inside too.
When you get tired of museums, Bygdøy also has several beaches, including a nudist beach and a gay beach, so check out where you are headed to avoid surprises.
Karl Johans gate
Going down from the Royal Palace, this street is what Remco calls "The Champs Elysees of Oslo". Proportional to the size of the city, the street is a lot narrower and shorter but pleasantly car free and busy with shops and cafes.
Vigeland park
The world's largest sculpture park by a single artists. The sculptures depict the journey of life, with a fountain of life and the central "Monolitten", a 17 m tall statue from a single piece of granite consisting of 121 intertwined human bodies. You can either ponder the meaning of life here or have a picnic in the grass.
Holmenkollen
The famous ski jump was on top of Remco's list because he is a sucker for VIEWS (which is probably a consequence of living in a country that is almost entirely flat). Since we had lived in Oslo, the whole ski jump was rebuilt and now there is also a ski museum inside, which was a lot more interesting than you might expect.
The saying goes that Norwegians are born with skis on their feet and while that might not be completely true, there was a charming photograph of the 9 month old Hartvig, skiing for the first time.
You can take a lift to the of the very top which gives you an amazing view of the city. If you're one of the people with diminished sense of self-preservation, you can also go zip-lining from the top – I can barely watch when somebody else does that.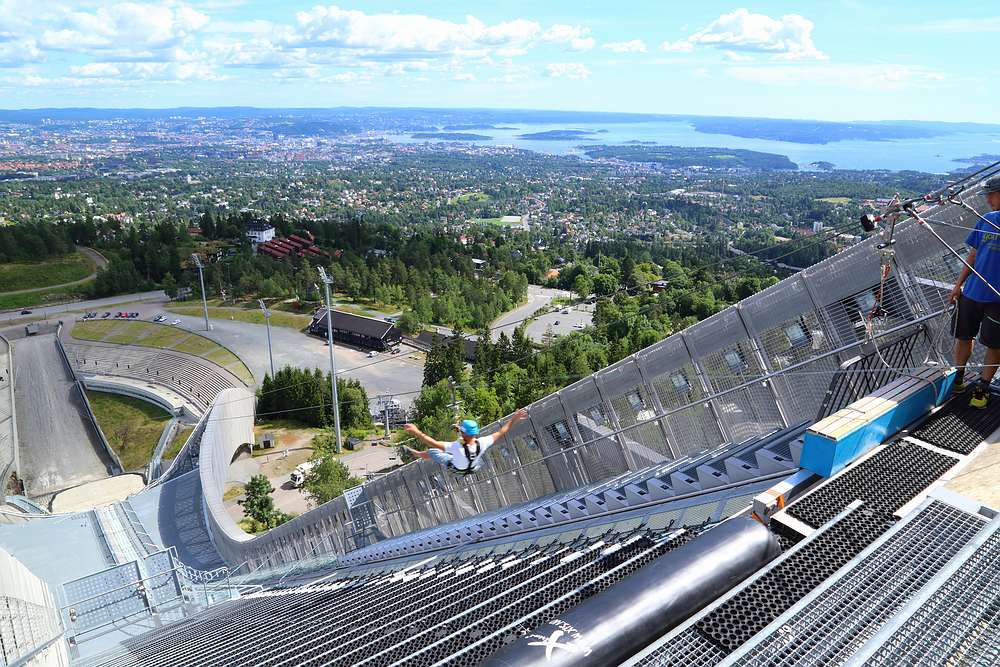 Oslo Opera House
This ultra- modern snow white building awarded "a cultural building of the year" award in 2008. The Norwegian architectural firm "Snøhetta" that designed it has its offices close by.
You can walk to the top of the opera house and people go there to sunbathe. We only saw the building from the fjord during our mini cruise but it is on my wish list whenever we happen to go to Oslo again.
Swimming
We went swimming every day: either in the fjord or in one of the clean beautiful lakes. Here I should note that swimming every day was a challenge I came up with for our holiday, after our overnight stop in Sweden. The charming blue wooden house we slept in was next to a lake and we went swimming both in the evening and in the morning. To begin with, Remco was not terribly enthusiastic because even though the weather was really pretty good, the water in Scandinavia does not warm up quickly. As he likes to say, in our relationship, I am optimistic about the weather and water temperature and he about everything else. But which guy can resist a challenge?
Looking at the pictures now, I think we managed to pack a lot into the limited time we had. Still there are a lot of places we did not get to – hopefully it will not take another 16 years before we go again!