When we moved to our new allotment we had to leave many fruit bushes behind, because our current allotment is quite a bit smaller. Therefore we only moved 2 out of our six gooseberry bushes, the two we like most: "Hinnonmäkki red" (mildew resistant) and "Pax" (resistant and thornless).  But because of this reduction I was no longer willing to share the harvest with birds (it's enough the rabbits eat my onions and peas). And so I used the money I earned from a random interpreting  job to buy rather fancy fruit cages. They were easy to build, will hopefully last us years and look good in the garden, too, which is an important consideration because most of the pictures for my articles are shot in the garden and a sloppy DIY can really ruin the background.
Last week the first berries were ready to harvest– couple of weeks later than usual because of our extremely cold spring. And from the first harvest,  I made a gooseberry clafoutis. Which is a lot easier and faster to make than a tart and my expectations were not that high but then it tasted much, much better than I would have expected from something that's so simple to make it almost feels like cheating.
We ate most of it as dessert and then the rest In the car on our 700 km drive to my sister and the clafoutis tasted great both warm and cold. Kind of like set custard with berries but a bit denser, more substantial. I used Nigel Slater's recipe for cherry clafoutis that he claims to have been working on for years. I have not tried it with cherries but I can definitely vouch for the perfection of this  gooseberry version. Substituting gooseberries for the cherries is a sensible thing to do , because the best clafoutis would be made with sour cherries and these tend to be difficult to get hold of. Gooseberries possess an enticing sour-sweet taste combination and as opposed to cherries, you don't need to stone them. But then again, you have to top and tail them, so in the end it does not make all that much difference where the amount of work is concerned.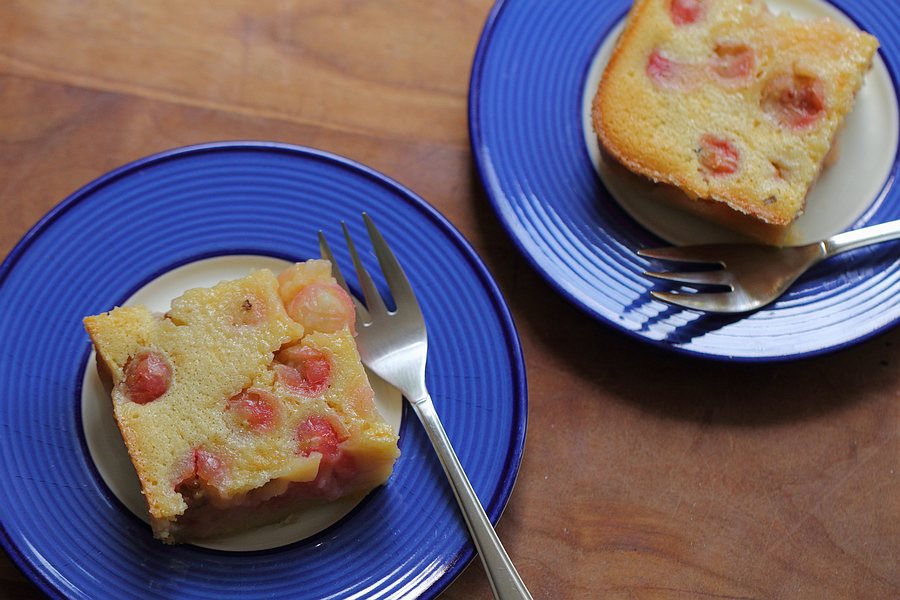 Gooseberry clafoutis
Adapted from Nigel Slater: Tender vol. II
400 g gooseberries
70 g butter
80 g caster sugar
2 eggs
90 g all-purpose flour
150 ml milk
½ tsp vanilla extract
Icing sugar for dusting
Preheat oven to 180 degrees Celsius. Top and tail the gooseberries.
Lightly butter a 20 cm diameter ovenproof dish (I used a square 18 cm dish) with a bit of the butter and dust with 2 tbsp of the sugar. Distribute the gooseberries over the bottom of the dish.
In a medium bowl, whisk eggs and sugar together. Add flour, milk and vanilla and whisk until combined. In a small saucepan, melt the butter. Add butter to the flour mixture and beat some more. Pour the batter over the gooseberries and put the dish in the oven. Bake until the top is golden, testing for doneness by inserting  a skewer in the middle. If it comes out clean, the clafoutis is done. Remove from the oven and dust with icing sugar if you wish.