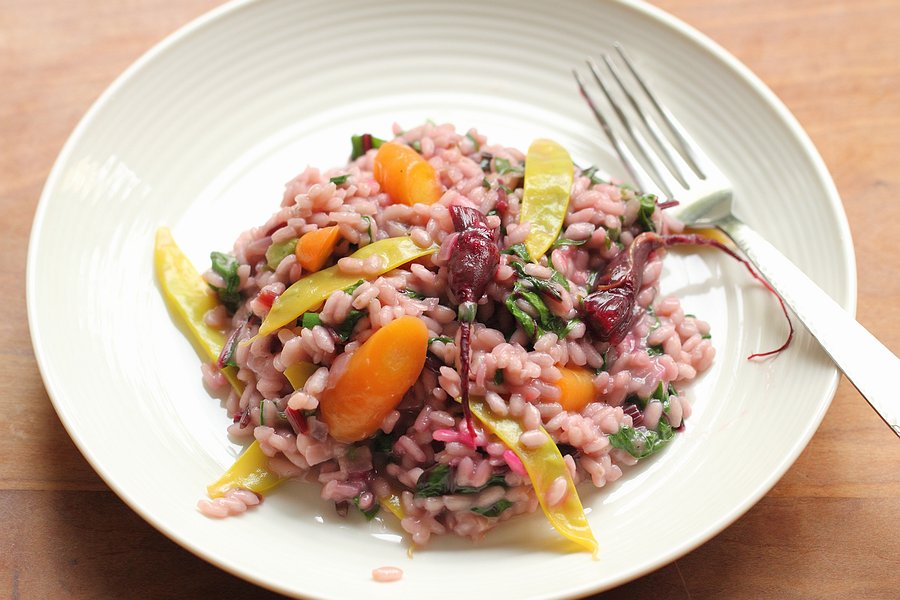 It's funny how the core of who you are and what you like to do is set at an early age. When I was about 8 or 10, I loved playing with plasticine. Together with my older cousin, we used to make party food for our dolls. I remember making tiny open face sandwiches, just about 2 cm (less than an inch) long. They were incredibly detailed miniatures, with egg slices and realistically marbled ham. We did not play with them – the fun was in the making. I still have a passion for both food and plasticine (only now I play with clay which is a bit more age appropriate). And I still love tiny, miniature, cute things. Kittens (of course). Dainty cookies. Baby vegetables.
These are something of a fashion in the current culinary world, but when you grow your own vegetables, they are the consequence of the necessary thinning (or impatient harvesting). Either way, baby veg are pretty and delicious – tender with a concentrated taste that has not yet been diluted by growth.
Risotto is one of those dishes that you can make to use up any assortment of vegetables you have on hand. When you use red wine, it will turn pink and with the addition of baby vegetables, it will be a decidedly "cute" dish. But since "cute risotto" would be a horrible title I went with "baby vegetable risotto".
You can, of course, use other baby vegetables, too: small zucchini, tiny broad beans, peas, slender asparagus spears…
Baby vegetable risotto
There's a possible shortcut to this recipe: you can also cook the vegetables in the risotto, avoiding having to pre-cook them. But this is only possible, if they're very fresh and tender and you're sure of your timing.
approx. 1,5 liters (6 cups) vegetable stock
1 tbsp olive oil
1 tbsp butter
1 red onion, finely chopped
2 cloves of garlic, finely chopped
500 g (2 cups) risotto rice
150 ml (2/3 cup) red vine
400 g assorted baby vegetables (small carrots, small beets with their greens, snow peas, tiny broccoli)
2 spring onions
1 tbsp chopped fresh tarragon
1 tbsp butter
1 handful of grated Parmesan cheese, plus more to serve
Cut larger vegetables in bite sized pieces, but leave tiny ones whole to show them of. Roughly chop the leaves of the beets and finely slice the spring onions.
In a wide pan, bring water to boil, then add carrots. Cook until just tender, about 5 minutes. Remove and cook the other vegetables  until tender. The beets might need a little longer, snow peas just about 2 minutes. Set the cooked vegetables apart.
Have your stock simmering on the stove.
Heat the butter and oil in a wide pot. Add the onion and cook over medium heat until softened, about four minutes. Add the garlic and after another minute add the rice. Turn up the heat, stirring continuously until the rice begins to look translucent, about 2 minutes. Add the wine and stir until it's absorbed. Turn the heat a little bit down, it should be high enough to maintain a lively bubble. Begin adding the stock, one ladle at a time, adding more after the stock has been absorbed and stirring continuously. When the rice is almost done (after about 15 minutes), and you have about 2 ladelfuls of stock left, add the lightly cooked vegetables and the chopped leaves and spring onions . Add the last stock and cook for 3 more minutes. Turn off the heat, add the butter, tarragon and Parmesan and cover the pot. Let sit for a couple of minutes, then check the seasoning. Serve with a little freshly grated Parmesan on top.