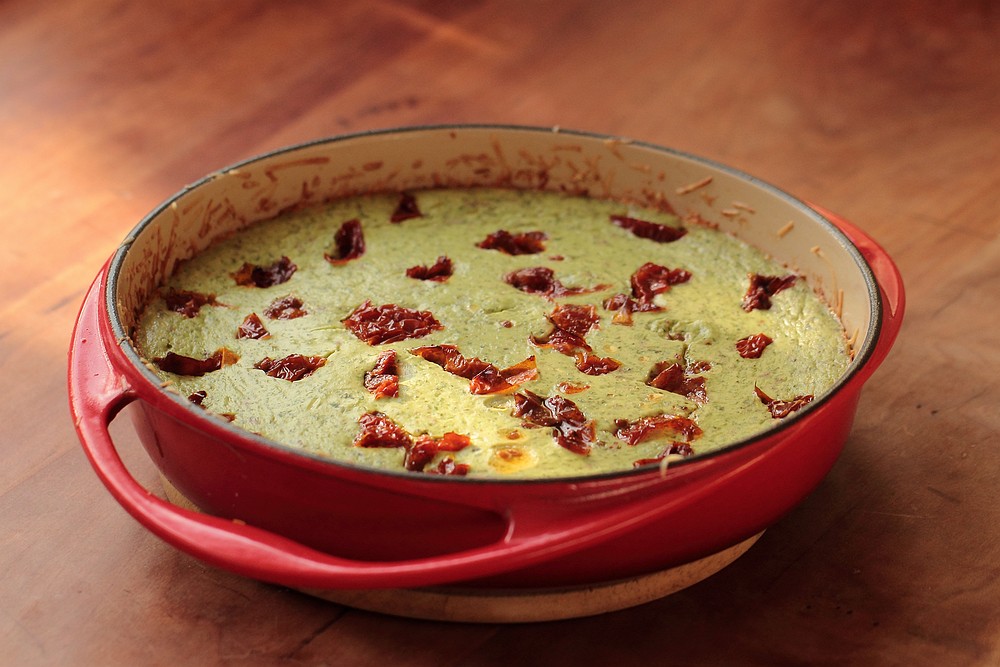 The wonderful thing about perennial vegetables is that in spring they grow a lot faster than their annual counterparts. Because they start growing from well established roots instead of having to germinate first and make roots later, in our edible forest, we can start harvesting weeks (maybe months) before there's anything to pick in the vegetable garden.
Often late in the afternoon, when the necessity arises to make a preferably healthy dinner that will preferably take close to none effort and will not require any additional shopping trip, I take a colander to the garden, fill it with any and every green leaf in sight, wash the greens, chop them roughly, throw in a pan, let them to wilt, then throw in about 5 eggs, maybe a little cheese on top and voilá: dinner is served.
This ricotta al forno (baked ricotta, basically) takes the concept up a notch, but is still very easy to make and delicious with just about any soft herbs, leaves or weeds.
The original recipe comes from River Cafe via Sarah Raven and calls for mint, basil and parsley, and the combination is delicious, but since my basil still lives on the windowsill and has not exceeded 2 cm in height yet, I use whatever flavorful green stuff I find in the garden. The baked ricotta is always a little different, and always delicious.
Here are some of the perennial vegetables that mostly grow themselves in our garden:
Ricotta al forno with spring herbs
Adapted from Sarah Raven: Garden Cookbook
Apart from using different greens, I also exchanged the black olives for sun-dried tomatoes, mainly because I had some. You can, of course, use either or none, depending on your larder.
knob of butter
150 g freshly grated Parmesan cheese
2 large handfuls (or a colander full of) herbs, greens and edible weeds, such as: sorrel, parsley, mint, oregano (young leaves), nettles, Good king Henry, chives, ground elder (Aegopodium podagraria), ramsons, lovage
500g fresh ricotta cheese
120 ml double cream
2 eggs
salt and black pepper
5 sun-dried tomatoes, roughly chopped (optional)
Preheat the oven to 190 degrees Celsius/ gas mark 5. Grease a 30 cm springform (I used my 24 cm Le Creuset baking dish) using a little knob of soft butter and then coat the buttered surface with a little grated Parmesan cheese. Shake off any excess cheese.
Put the herbs into a food processor with half the ricotta and half the cream. Blend until bright green. Add the rest of the ricotta and cream, and , while blending, add the eggs one by one. Season with salt and pepper and finally fold in the grated Parmesan.
Spoon the mixture into the prepared tin and spread the tomatoes on top, if using.
Bake in the preheated oven for 20 minutes (mine took longer because the ricotta was thicker). It should rise and have a browned crust, but the center should be soft. Serve immediately.