It seems that the two main harvest from the allotment at the moment are rhubarb and daffodils. No problem, I like both a lot. They both signal the start of a new garden season; daffodils are the first flowers that I can make a decent bouquet of, and rhubarb is the very first (and for weeks the only) fruit we'll harvest. And yes, it is a vegetable, I know. But a vegetable that you can put into tarts, muffins or cobblers. Unlike the charming free-form rhubarb tarts, rhubarb cobbler is slightly less elegant, but also a lot faster to throw together. The rhubarb does not have to be precooked, only mixed with sugar and orange and left to marinate. The biscuit dough comes together in minutes and is just spooned over the rhubarb. It can also be rolled out and cut with a round cookie cutter, but that's up to you. Either way, the taste is a beautiful combination of tart, orange scented rhubarb and sweet cakey biscuit that is crisp on top.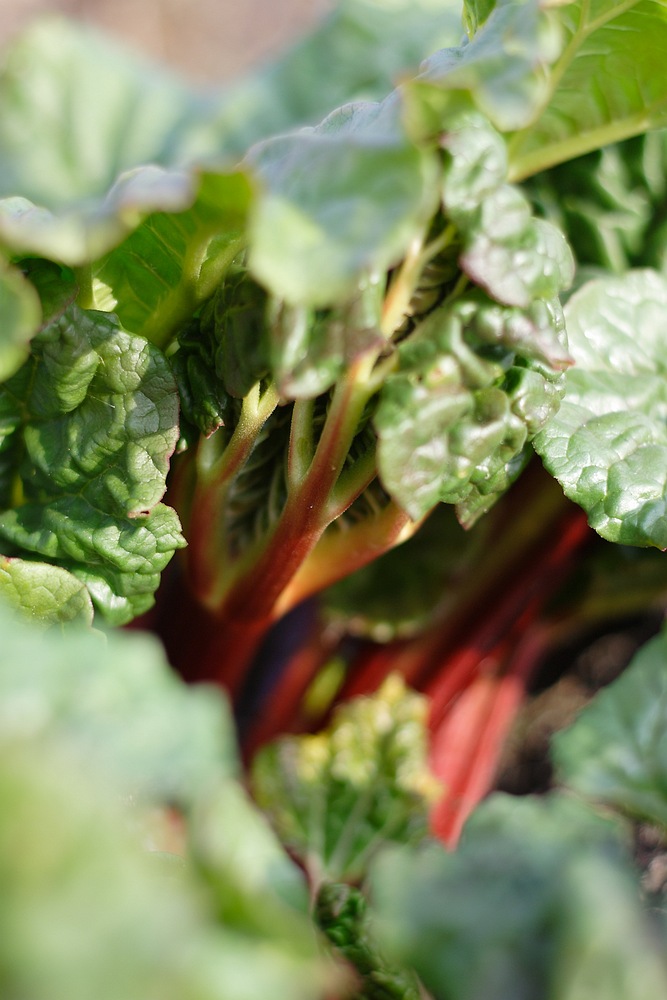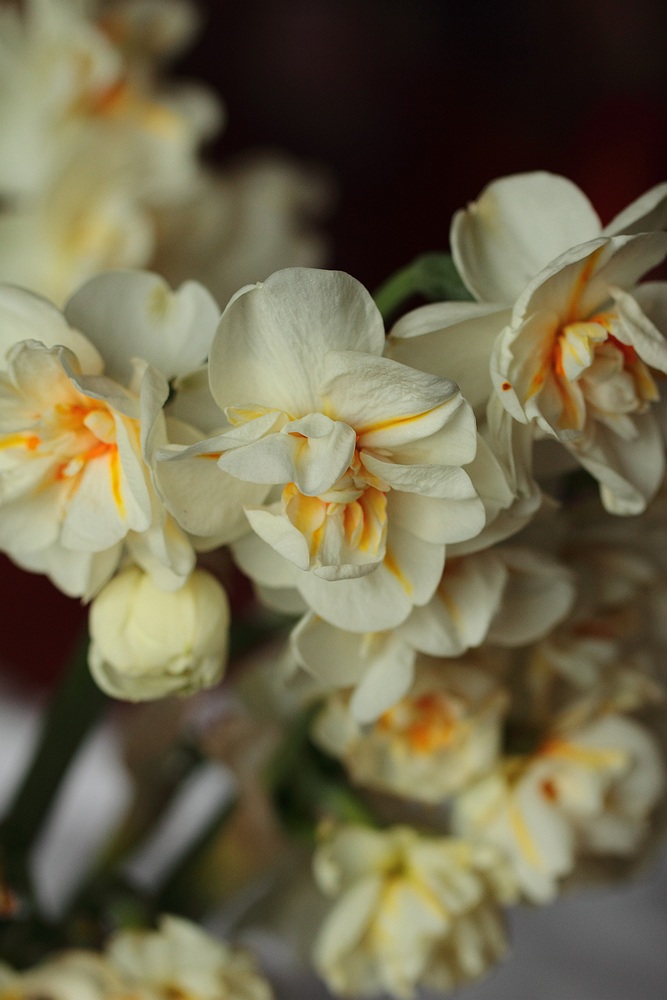 I grow both rhubarb and daffodils in my small experimental forest garden at the allotment. More than a forest garden it's actually a guild of plants that support each other in multiple ways (and that we can also harvest from). Thus the daffodil, planted around a pear tree, not only gives us flowers for the house, but also deters rodents. And when we harvest the rhubarb stalks, we use the large leaves to mulch the ground between other plants.

Rhubarb cobbler
Filling:
1 kg (2 pounds) rhubarb
60 g (1/3 cup) brown sugar
2 tbsp cornstarch
grated zest from 1 orange
juice from ½ the orange
Topping:
180 g (1 1/2 cups) speltflour (or all-purpose, or whole-wheat pastry flour)
55 g (1/3 cup) sugar
1 tsp baking powder
½ tsp baking soda
½ tsp salt
85 g (6 tbsp) cold butter, cut into small pieces
125 ml (½ cup) buttermilk
½ tsp vanilla
Trim the rhubarb and cut it into about 1cm (½ inch) pieces. In a shallow baking dish (I use my 20x30cm Pyrex dish), mix the rhubarb with sugar, cornstarch, orange zest and juice. Leave to macerate.
Preheat the oven to 185 degrees Celsius (375 Fahrenheit).
To make the topping, mix the dry ingredients together, then cut in the butter using two knives or your fingers until it resembles coarse crumbs. Stir in the buttermilk and vanilla with a fork until dough clings together when grabbed with your hand. If too dry, add a little more buttermilk, until all the flour is moist enough to cohere. Spoon the dough over the rhubarb using a small spoon to give the surface a cobbled appearance. Alternatively, you can roll out the dough into about 1 cm (½ inch) thick and cut out rounds.
Bake until the fruit is cooked and bubbling around the edges and the topping is golden brown, about 25 minutes.