Last Monday, the whole Dutch nation celebrated the Queen's birthday. This might lead you to believe that queen Beatrix was actually born 30th April. Not so, it was her mother's birthday. But upon inheriting the throne, the queen very wisely decided not to move the feast to her actual birthday, which is 31st January. Her people might not enjoy the mostly outdoor festivities quite as much when it's freezing, she thought.

In a couple of years, when her son Willem Alexander becomes king, there will be a lot of new problems. Should the feast be moved to his birthday (27th April), which is fairly suitable as far as the weather is concerned? And will the name of the holiday need to be changed from Koninginnedag (Queen's Day) to Koningsdag (King's day) then? The burdens of being a monarch!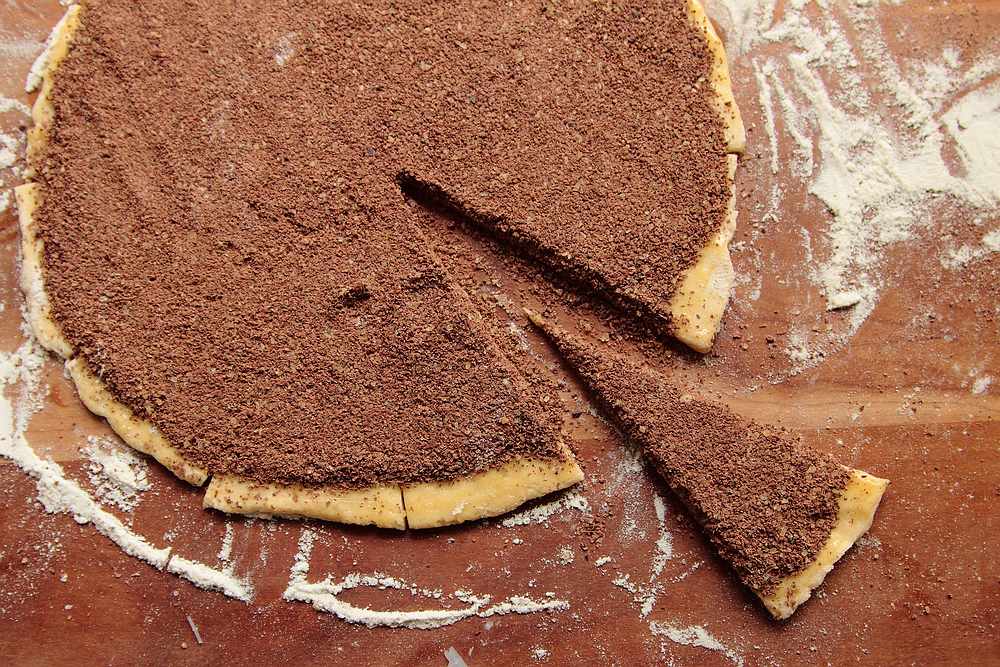 The Dutch, being a nation of merchants, celebrate the Queen's Day by organizing huge flea markets. These give kids an opportunity to supplement their pocket-money by selling some of their parents' junk. And their parents get an opportunity to browse the market and accumulate some new junk.
This year the weather was unusually favorable and we went to town to browse the flea markets and came back a couple of indispensable items richer. Also, I baked the queen a rugelach for her birthday party.
In what way, you probably ask, is a Jewish pastry that originated in Eastern Europe connected to the birthday of a monarch from the house of Orange? And the answer is: there is no connection. Except, these are so good, I'd want them for my birthday. They are at least a thousand times better than the pastries with suspicious orange icing that most cafés serve on this big day.
Light, puffy and tender, filled with chocolate and cinnamon – if you don't live in monarchy, you'll have to find another reason to make these. I advice you to find one quickly, or you'll regret it!

Chocolate cinnamon rugelach
Adapted from Nigella Lawson: Feast
As I don't have a food processor, I made the dough by hand. It's easy. However, you can of course use the processor, adding the ingredients in the same order. Also, I grated the chocolate with my nut grater, which is messy, because the chocolate becomes static and starts flying in all directions. It was grated too finely, too, and I had quite a bit of the filling left, because it was impossible to fit it all into the rugelach (don't worry, I used it to fill another batch of delicious buns – no wasting ingredients in my kitchen!). Next time I would try to finely chop the chocolate by hand.
You don't have to bake all the dough at once, you can keep a disc or two in the freezer and thaw and bake them later.
Makes 36
For the dough:
360 g (3 cups) all-purpose flour
¼ tsp salt
40 g (¼ cup) sugar
1 package (3 tsp) active dry or instant yeast
230 g (2 sticks) butter, diced
115 g (4 oz) cream cheese, diced
1 egg
60 ml (¼ cup) sour cream
For the filling:
200 g (8 oz) bitter sweet chocolate
40 g (¼ cup) light brown sugar
50 g (½ stick) butter
1 tsp cinnamon
For the egg wash:
1 egg, beaten with a pinch of superfine sugar
In a large bowl, mix the flour, salt, sugar and yeast. Add the diced butter and cream cheese and using your fingers rub them into the flour until the mixture resembles a damp sand. Beat the egg and sour cream together, and using a fork mix into the flour mixture, then using your hands knead until you get a silky dough.
Turn the dough out onto a lightly floured surface, divide in three and form into fat discs. Put the discs into a freezer bag and leave in the fridge to rest for an hour – though you can leave them there for longer – just taking them out about 10-15 minutes before you want to get rolling.
To make the filling, process the chocolate until it's battered into rubble, and then put these dark brown crumbs into a bowl with the sugar, using your fingers to mix them together. Melt the butter separately and let it cool slightly.
Preheat the oven to 185 degrees Celsius (375 F). Roll out one of the discs of dough on a lightly floured surface into a circle 25 cm (10 inch) in diameter. With a knife, divide the circle into into 12 equal triangles, like you would divide a pizza, only don't pull them apart yet.
Brush the circle with the melted butter, and then spread a third of the chocolate filling to cover the circle. Very carefully pull away one triangle at a time, rolling each one up from the thick end to form a bulging crescent; think of a croissant. Follow this procedure with all three discs.
Put the rugelach onto parchment paper lined baking sheets and let stand for 20 minutes to rise a little. Brush each rugelach with the egg wash and bake in the preheated oven for 20 minutes.