Czech Christmas would be no Christmas without Christmas cookies. And "vanocka". Vanocka is a sweet bread studded with raisins and traditionally made for Christmas. The taste is not much different from other braided sweet breads such as challah, but it is a lot showier, because it is not just one braid, not two, but THREE ON TOP OF EACH OTHER! I don't know which competitive housewife came up with the idea, but it really is a stunning bread.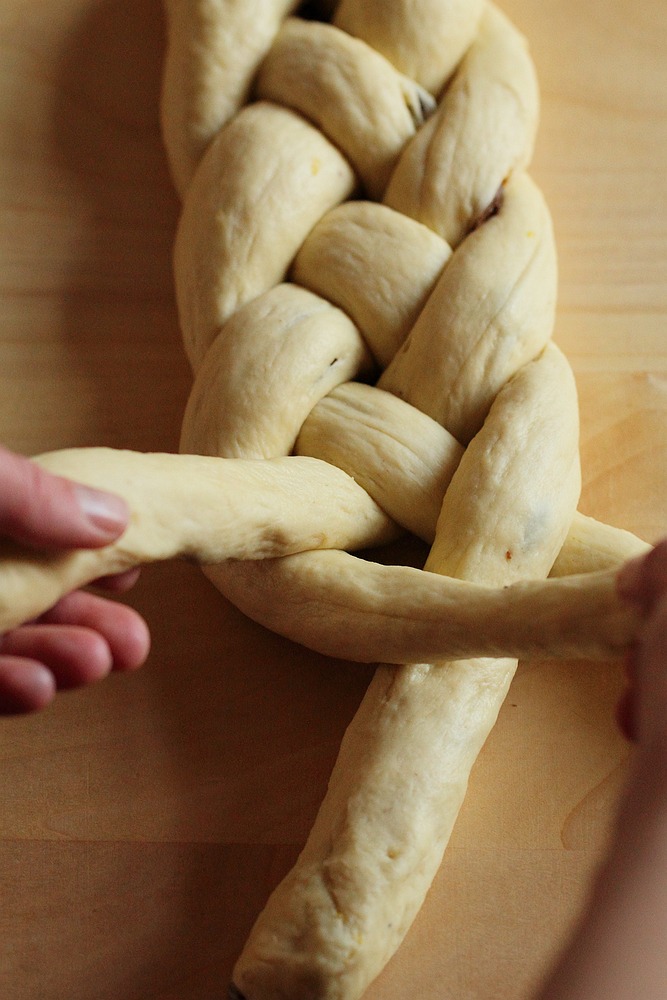 If all goes well, that is. Mine almost always collapses slightly or tears or whatever. My grandmother used to make a perfect looking vanocka every Christmas, but sadly she passed away before I decided I needed to learn how to make it. Maybe I should practice more often than once a year? Anyway, it stills tastes good and is polished in no-time.

Vanocka
0,5 l milk
40 g fresh yeast or 1 tbsp dried yeast
100 g sugar
900 g all-purpose flour
pinch of salt
zest of 1 lemon, rasped
1 egg
1 eggyolk
100 g butter, melted and cooled.
50 g raisins
To glaze and decorate:
1 eggwhite
50 g almonds, peeled and halved
In a large bowl, mix flour, sugar and salt. Warm the milk slightly, it should be just lukewarm. Dissolve the yeast in the milk.
Make a dent in the flour and pour in the milk- yeast mixture. Mix a little flour into the milk to make a runny batter in the middle of the bowl. Let rise for about 15 min, until small bubbles appear. Add egg and eggyolk, melted butter and zest. Mix everything into a fairly firm dough, using a wooden spoon and then your hands. Cover the bowl and let the dough rise for at least 1 hour, until it doubles in volume.
Transfer the risen dough to a work surface and divide into 9 equal parts. Roll each part into a thick rope – about 35 cm long. To braid, first take 4 ropes and pinch their ends together. Take the left rope and lay it over the one to the right, then under the next one, and over the rightmost one. Repeat with the rope that is now the leftmost one. Repeat until you are at the end. Pinch the end together and place on a baking sheet lined with parchment paper.
Take the next three ropes, pinch their ends together and braid. Pinch the bottom ends together and place the braid on top of the four-strand braid. Twist the last 2 rolls together and place on top of the second braid. Secure the braids in place using a few toothpicks. Cover with a towel and let rise for about 20 minutes.
Preheat the oven to 175 degrees Celsius.
Brush the surface of the bread with the beaten eggwhite and decorate with almonds. Bake for about 50 min, until golden brown. Watch it carefully, since sweet breads burn more easily. Let it cool, remove the toothpicks and dust with icing sugar.