My husband discovered this recipe when leafing through a German cookbook, thought they looked "cool" and asked if I could make them. Since he almost never looks into a cookbook and rarely makes a request for me to make something, I obliged immediately. I also changed the recipe a little in his honor: I added coffee to the dough. Like most of the Dutch population he's a total coffee-addict, unable to even face going to work without having at least 2 cups of coffee first. I also made a sort of spiced up ganache for the filling, instead of the suggested "nougat" which is unavailable here..


The cookies looking as star-towers or snow-dusted miniature Christmas trees were (are) a great success. And they taste great, too!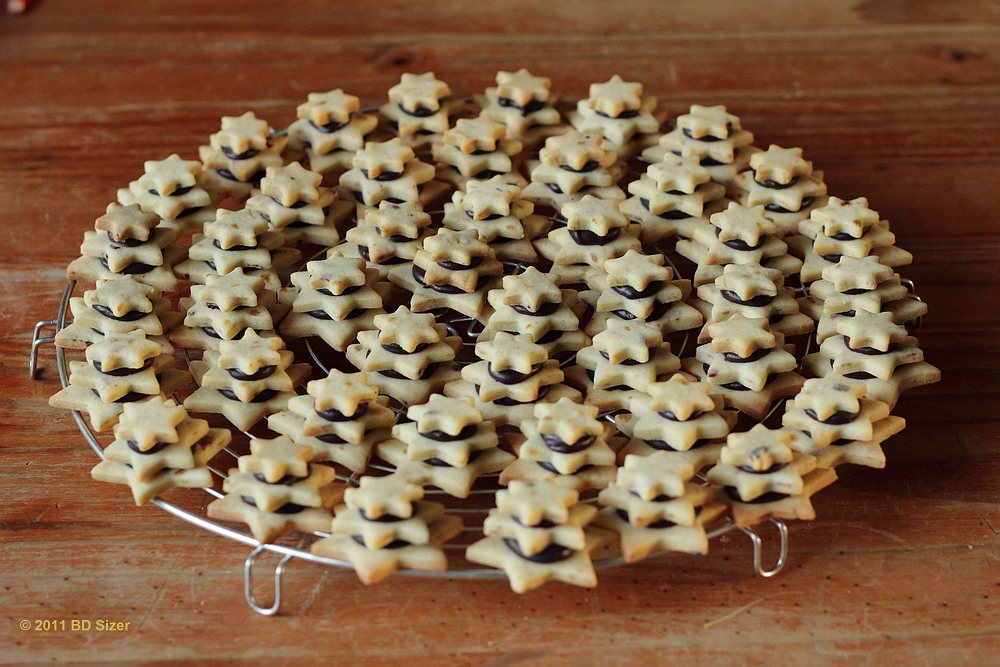 Star-tower-cookies
Adapted from Christa Schmedes: Weihnachtsbäckerei
The recipe said it would make 35 cookies, but I got 60. Possibly my cookie cutters were smaller (and thus cuter).
Dough:
200 g soft butter (room temperature)
150 g icing sugar
1 egg
1 tbsp cream
400 g all-purpose flour
1ts instant coffee
1/8 ts mace
Filling:
100 g dark chocolate
50 g milk chocolate
80 ml cream
1/8 ts ground cinnamon
1/8 ts ground cloves
1/8 ts ground cardamom
Icing sugar to dust the cookies (optional)
In a medium bowl, mix the butter and sugar. Add egg and cream and mix until well incorporated. Add flour, mace and instant coffee powder and mix quickly together. Put in the fridge for at least 30 min.
Preheat the oven to 170 degrees Celsius.
Roll the dough out to a thickness of 3 mm on a lightly floured surface. Cut out 3 sizes of stars (you need an equal number of all three sizes). Put the cookies on a baking sheet lined with parchment. Bake the cookies for about 10 min. Let the cookies cool.
Make the filling by melting all ingredients in a double boiler. Let cool, but do not let it become too solid, or it will be difficult to spread. Put a little of the filling in the middle of one of the biggest stars, then gently press a medium star on top. Again, put a little filling in the middle and cover with a small star. Continue untill you have used all stars.
Dust the cookies with icing sugar (optional).