You know what our most valuable crop is at the moment? Blackberries. Last week I saw organic blackberries for sale, the tiniest box (150 g) going for 2,35 Euro. That same evening I picked more than a kilo, which would have cost me over 15 Euro at the market. It cost me no more than the fifteen minutes I spent picking (which I thoroughly enjoyed), because in this case I had not even planted the bushes. Our allotment neighbor grows his blackberries against the feeble fence dividing our gardens and does a great job spoiling his plants with homemade compost. Subsequently he becomes somewhat overwhelmed by the harvest and practically begs me to pick some too: "Anything you can reach and you can pull the branches towards you to reach more!".
The same is true of most berries: they're costly to buy (because of the labor costs and because of their perishability) but pretty easy to grow and undemanding once established. This and their health benefits (all are chock full of minerals and anti-oxidants) makes them some of the best things to plant in your garden.
We also have a tiny patch of Alpine strawberries, just 8 plants, that I grew from seed and that fruit all summer. There are also some red currants left on our bush because thanks to the fancy cage, birds can't get to them (must be very frustrating). By now they are overripe, which in the case of red currants is a good thing, meaning less sour and very aromatic. In the community garden, we still pick some Japanese wineberries.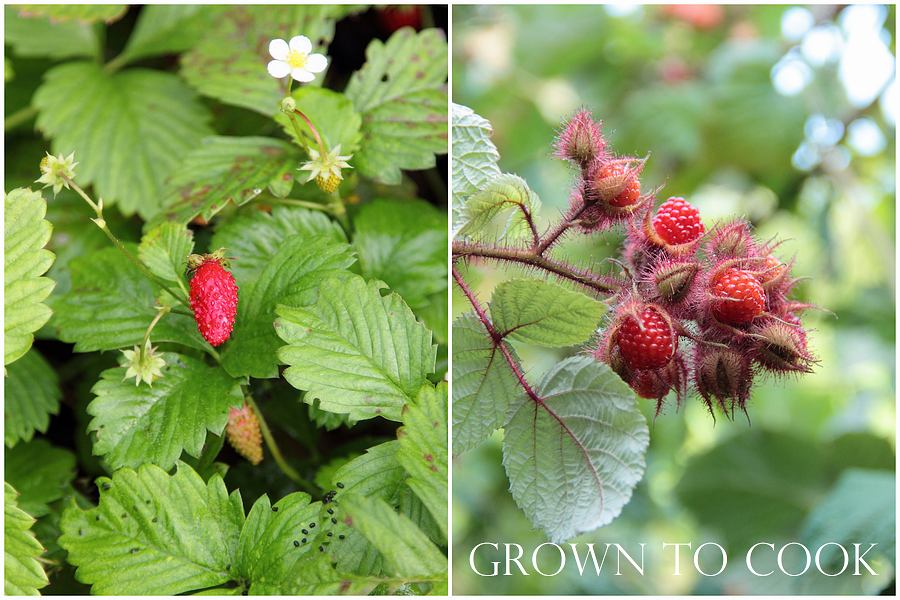 Fresh berries are the prettiest possible decoration for a summer cake (or a fall cake for that matter) and unlike some other fancy adornments are no trouble to make. As a matter of fact, this whole cake, while looking suitably celebratory for a party, could hardly be easier to make, especially if you follow the food processor route. I did add an extra step roasting the hazelnuts and advise you to do it if you have a little extra time because more even than other nuts, hazelnuts are enhanced by roasting. And since the batter is mostly hazelnuts, roasting them will make a noticeable difference to the flavor.
The recipe includes two ways to make the batter: by hand or in a food processor. Grinding the nuts by hand will result in a somewhat lighter texture, but is of course, slightly more work and definitely not necessary for achieving a great cake.
Hazelnut torte with berries
Adapted from The Four Season Farm Gardener's Cookbook

that I enthused about before
2 tbsp butter, at room temperature
2 tbsp whole wheat flour
2 ½ tsp baking powder
4 large eggs
150 g (¾ cup) + 2 tbsp sugar, preferably turbinado or raw sugar
130 g (1 cup) hazelnuts
80 ml (¼ cup) berry preserve, I used blackberry (optional)
375 ml (1 ½ cups) heavy (whipping) cream
2 tsp vanilla extract
300 g (2 cups) fresh berries (blackberries, raspberries, red currants, wild or Alpine strawberries, blueberries, …)
Optional step:
Roast the hazelnuts in a heavy pan, watching them closely and shaking the pan often, until they're golden and smell delicious. Wrap them in a tea-towel and rub vigorously to remove most of the skins (it does not matter if you don't remove all).
Preheat oven to 175 degrees Celsius (350 F).
Use the soft butter to grease two 20-cm (8-inch) cake pans. Line the bottoms of the pans with rounds of parchment cut to size.
Make the batter by hand:
Grind the nuts in a hand held grinder. Mix together flour and baking powder in a small bowl or a cup. In a medium bowl, combine the eggs and the 150 g sugar. Whisk together until smooth. Add the hazelnuts and flour with baking powder and stir until just mixed.
Make the batter in a food processor:
Combine the eggs and 150 g (¾ cup) sugar in a food processor or in a blender and process until smooth, about 1 minute. Add hazelnuts and process further until the nuts are finely grated, about 1 more minute. Add the flour mixture and process until just mixed, just a few seconds.
Continue for both:
Pour the batter into the prepared cake pans, trying to divide it evenly. Bake until the layers are light tan in color, about 20 minutes.
Let cool in the pans on a wire rack
Whip the cream gradually adding the vanilla extract and remaining 2 tablespoons of sugar. Until soft peaks form.
Gently loosen the cake by tapping the pan on the counter. Invert the first layer on a flat serving plate or a cake stand. Peel off the parchment. Spread the berry preserve on top (optional), followed by about a third of the whipped cream. Distribute half of the berries on top.
Invert the second layer and peel off the parchment. Put the second layer on top of the cake. Spread the remaining whipped cream over the top of the cake and decorate with the remaining berries. Keep refrigerated until serving.