When I was little, we used to spend a good chunk of every summer vacation at my mother's friend's house in a very small village in the western part of what was then the Czechoslovak Socialist Republic. There were always at least 5 kids in the house, we were allowed to run free in the fields and woods and the sun always shone.
Still, sometimes I would get bored. The grandmother of our friends was the kind of person never to sit still, getting up before everybody else and busy all day long. When I said I was bored, she replied: "Well, why don't you polish the brass doorknobs then?"
I did, and was careful never to utter the word 'bored' again.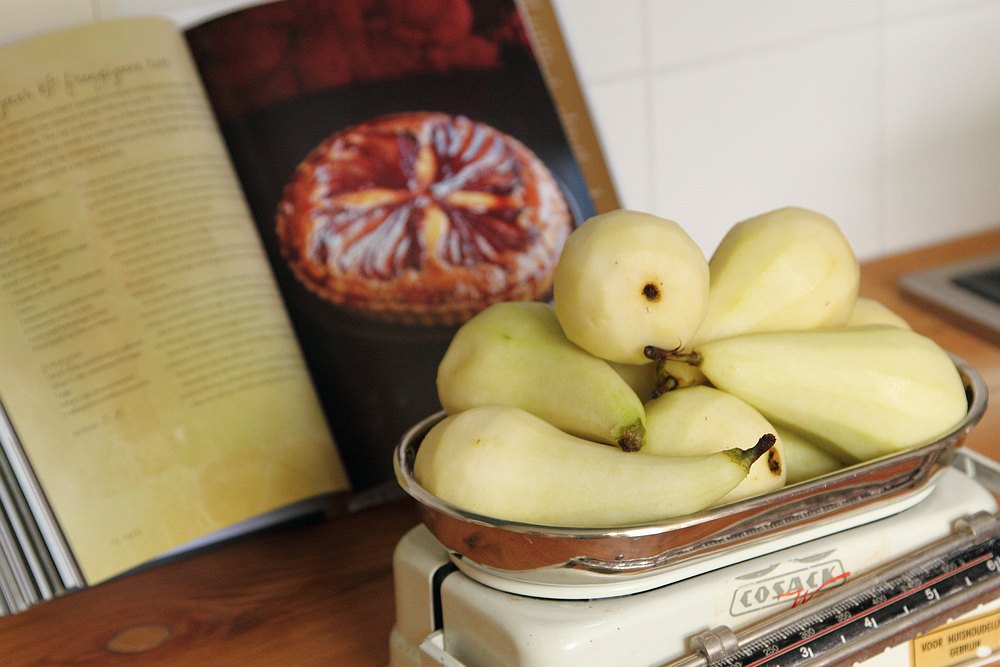 A couple of weeks ago my son complained about being bored and since we don't have any brass doorknobs to polish, I replied: "Why don't you look through this book and find a delicious cake for your dad's and sister's birthday party?"
It only took him a couple of minutes to decide that this was the cake. He then proceeded to secure the approval of the birthday girl and birthday-dad and promised to help me make the cake. I am happy to report that unlike last year when there was a dispute as to the cake that should be served, this cake was unanimously accepted.
Of course, it was: it's three awesome things put together: heavily spiced gingerbread cake with a deep stout flavor, pears poached in wine and more spices and fluffy cream cheese icing.

As a triple layer cake topped with pretty pink pear slices it definitely possesses the "wow" factor every birthday cake should have, but unlike some other impressive (but less delicious) creations, it's really not difficult to make. The cake is easy, poaching pears is easy and mixing icing is easy. It can all be done in advance and assembled later. It can feed 20.
It comes from a new favorite baking book Tea With Bea: Recipes from Bea's of Bloomsbury

A book that, I admit, I was at first attracted to because of the beautiful cover. But it's full of great recipes as well as pretty pictures. Just make this cake and you'll see!
One year ago: Guinness brownies (Guinness too? Weird!)
Gingerbread Guinness Cake with Poached Pears and Cream Cheese Icing
Adapted (slightly) from Tea With Bea: Recipes from Bea's of Bloomsbury
Next time I make this I would further reduce the amount of sugar in the poaching liquid. I also made a little less icing. But that of course, is personal.
Serves 20
250 ml (1 cup) Guinness stout
250 g (¾ cup) black treacle/ molasses
1 ½ tsp baking soda
280 g (2 cups) all-purpose flour
1 ½ tsp baking powder
1 tbsp ground ginger
1 tsp ground cinnamon
¼ tsp ground allspice
¼ tsp freshly grated nutmeg
¼ tsp ground cloves
¼ tsp ground cardamom
3 eggs
100 g (½ cup) caster sugar
100 g (½ cup) dark brown soft sugar
1 tbsp finely grated peeled fresh ginger
200 ml (¾ cup) sunflower oil
Poached pears:
1 bottle of Syrah or Merlot wine
700 ml (2 ¾ cup) water
600 g (3 cups) caster sugar
grated zest of 1 (untreated) orange
1 whole star anise
1 vanilla pod, split in half lengthways
2 cloves
3 cinnamon sticks
4 cardamom pods
2 cm (1 inch) fresh ginger peeled
8 firm pears, e.g. Bosc or Williams
Icing:
180 g (1 ½ sticks butter)
250 g (2 ¼ cups) icing sugar
2 tbsp golden syrup
800 g (1 lb. 12oz) cream cheese
2 tsp vanilla extract
To finish:
½ small jar of apricot jam
Poaching the pears
Put the wine, water, sugar, orange zest and spices into a large saucepan. Cook over medium heat until reaching a nice simmer and all the sugar dissolves.
Peel the pears. Add them (whole) to the poaching liquid and cover with a round of parchment paper. Place a plate on top to act as a weight and prevent the pears from floating. Let simmer for 30 minutes over low heat. When cooked, remove the pears from the poaching liquid and let cool.
Baking cake
Preheat the oven to 16o degrees Celsius ( 315 F).
Grease a 25 cm (10 inch) round spring form pan and line the bottom with parchment.
Put the Guinness and molasses in a tall saucepan (adding the soda will cause it to bubble up) and bring to a boil over high heat, Remove from the heat and stir in the soda. Let stand until completely cool.
Put the flour, baking powder and spices in a bowl and stir until well blended. In another bowl combine the eggs, both kinds of sugar and the grated fresh ginger. Gradually add the oil. Pour into the pan with the stout mixture and stir thoroughly.
Add the dry ingredients and mix until just combined. Pour the mixture into the prepared pan and bake for about 1 hour or until an inserted skewer comes out clean.
Icing
Beat the butter, sugar and golden syrup together until the mixture is lightened in color and fluffy in texture. I am sure this would be super easy using an electric mixer, but I don't have one, so just use a wooden spoon and some muscle-power.
Add the cream cheese and vanilla extract and beat well.
Assembling the cake
Cut the cake into three (more or less) equal layers. Put one layer on a cake stand or a plate.
Spread a thick layer (about a third) of the icing over the cake.
Cut the cold pears in to quarters and remove the core and stems. Slice the quarters into slim wedges. Arrange some wedges of poached pear on top of the icing. Repeat this process with a second layer of cake on top of the first layer. Top with the last layer. Arrange the rest of the pear slices artfully on top of the cake. Warm the apricot jam in a small saucepan over gentle heat and strain. Pour it over the pears on top.