When summer, like now, really is summer and the sun is shining all the time and it's really warm and not like last year when the only difference between summer and fall was the date on the calendar, you probably don't really want to be in the kitchen. You want to be swimming, taking leisurely walks, horse riding, or sitting around the campfire, singing out of tune, but with gusto, while someone more musically gifted plays the guitar. I know I do.
We're at my sister's in the Czech republic in a tiny village, surrounded by fields and woods. A village where even our three year old nephew is allowed to play on the street because the road ends here and traffic is minimal. And we swim and walk and ride our pony and make campfires. Of course, we still have to eat, but recipes like this spelt salad make it possible to minimize the time spent in the kitchen.
The spelt has to be soaked overnight and then cooked for almost an hour, but no need to stand next to the stove during that time. And then you just chop some tomatoes and green herbs, stir and that's it. Spelt is a wonderfully nutty grain that's perfect in a salad. As for the herbs: I like dill here, but chives or parsley would be good too, no need to be dogmatic.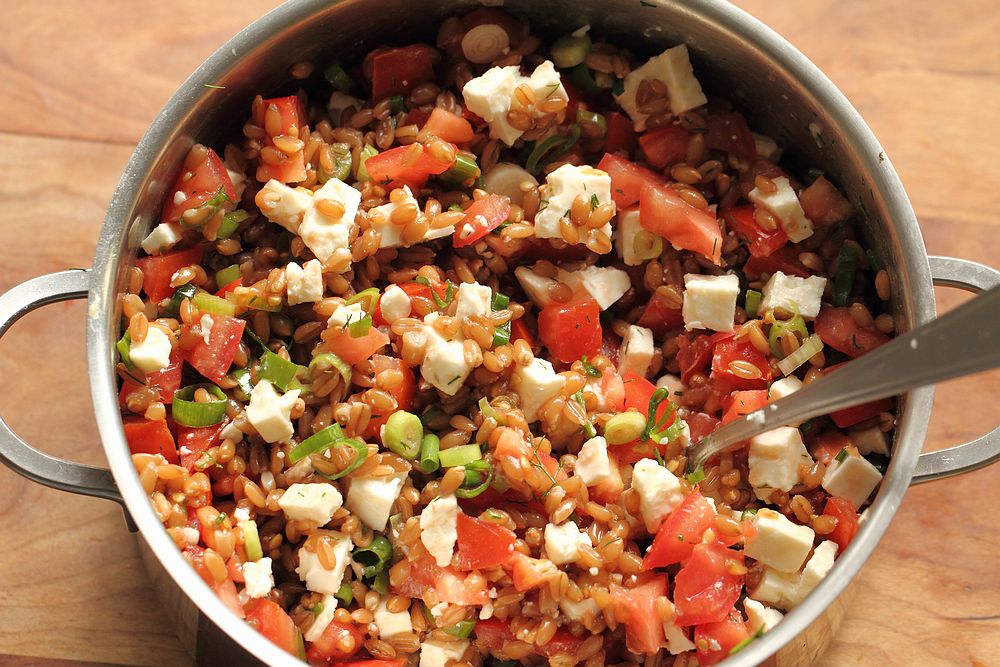 Other great salads for the summer: Quinoa salad with pickled radishes and quials' eggs, Chickpea salad with roasted peppers and black olives, Pasta salad with cauliflower, broccoli and mustard vinaigrette
Spelt and tomato salad with feta and dill
350 g spelt
olive oil
fresh lemon juice from ½ lemon
6 medium tomatoes, roughly chopped
2 spring onions, sliced finely
1 tbsp chopped fresh dill
200 g feta, in cubes
Rinse the spelt and soak it overnight in ample water. Add couple of pinches of sea salt, bring to the boil and simmer covered for about 50 minutes, until tender. Drain and add olive oil and lemon juice to taste (the grains will soak up the flavor better while still warm). Let cool to room temperature, add tomatoes, spring onions and herbs and stir. Check the seasonings and add more lemon juice if you wish. Sprinkle the feta on top.