I am sad. This week we heard that we will lose our allotment. The land is on lease and the owner wants it back. After 40 years that it had been used by the organic allotment association (during which the soil has been greatly improved), she decided she wants it back – not to use it herself or to sell, for no apparent reason. We have gardened there for eight years using the permaculture no-dig approach, this will be our last, ninth season. It will also mean that we lose the possibility to gather data on how the no-dig approach works in the long term. The best outcome we can hope for at this moment is that we will be allowed to stay until the end of the year, so that we can replant our fruit-trees and berry shrubs after they go dormant. That is: if we can find another piece of land to move them to.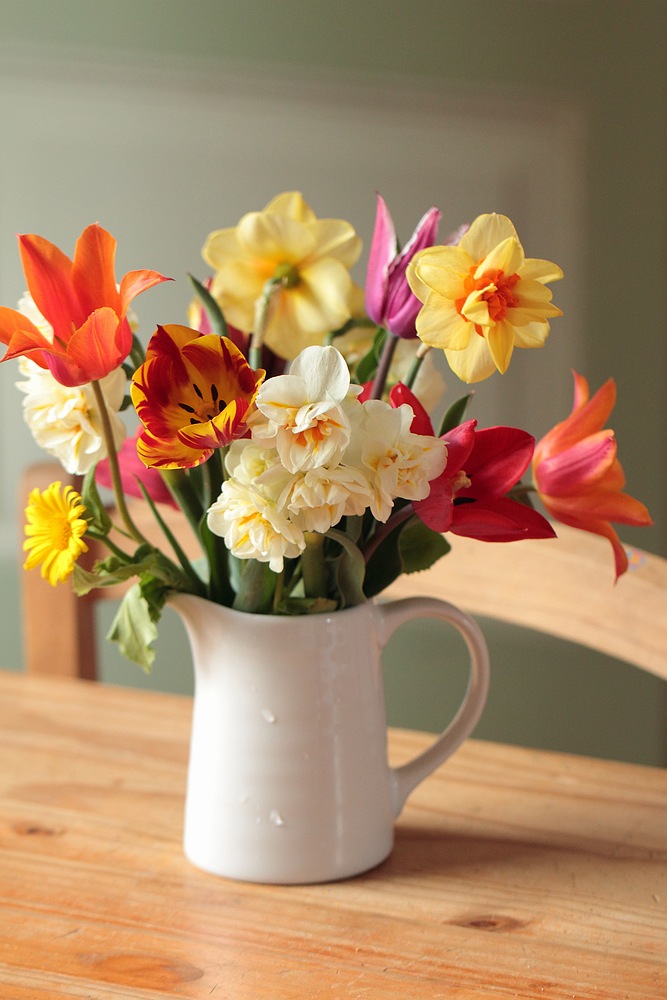 I still go to the allotment to sow and plant, to nurture and to tend, but it feels like dancing on the deck of Titanic.
I would like to tell you that when I'm sad I crave salad, but that would be a big fat lie. I crave sticky cinnamon cardamom buns. They help a little, as does the sweet smell that fills the house when they're baking. The first flowers from the allotment help a little, too.
Sticky cinnamon cardamom buns
This recipe is an amalgam, drawn from several sources (Deborah Madison, Jamie Oliver, Nigella Lawson) and adopted to suit my mood. You can omit the syrup if you wish and you will still end up with very good cinnamon rolls, though they will not be sticky.
Dough:
500 g (3 1/2 cups) all-purpose flour
3 tbsp sugar
½ tsp salt
seeds from 6 cardamom pods, ground (I use a pestle and mortar)
125 ml (1/2 cup) warm milk
2 ½ tsp active dry yeast
115 g (½ cup) butter, room temperature
2 eggs, room temperature
125 ml (½ cup) sour cream
Syrup:
115 g (½ cup) butter
2 tbsp dark brown sugar
4 tbsp maple syrup
3 tbsp barley syrup (or honey)
Filling:
2 tbsp butter, melted
1 tbsp ground cinnamon
½ cup brown sugar, packed
1 cup chopped walnuts
zest from 1 orange, grated
In a large bowl, mix the flour with sugar, cardamom and salt. Make a well in the center and pour in the warm milk in which you have dissolved the yeast. Mix in some of the flour to make a sponge in the middle of the bowl. Slice the butter and put the slices around the sponge (the warmth of the sponge will soften the butter slightly and make it easier to incorporate). Cover the bowl with plastic and leave for about 20 minutes, until bubbles have formed. Then add eggs and cream, mix everything together and knead until the dough feels silky and smooth. Cover the bowl and set aside to rise until doubled in bulk.
While the dough is rising, mix the cinnamon, brown sugar, orange zest and nuts in a small bowl.
In another bowl make the syrup: beat together the butter, dark brown sugar, maple syrup and barley syrup (or honey) until smooth, then spread in a 23 cm (9-inch) pie plate or baking dish (I used my Le Creuset cast iron tarte tatin pan that is 24 cm in diameter).
Push the dough down. Roll into a 30 x 40 cm (12 x 16- inch) rectangle. Brush it with melted butter, sprinkle the sugar mixture over the surface, tightly roll up lengthwise. Slice into rounds about 2,5 cm (1 inch) wide (I ended up with 12) and set them in the pie plate, cut side facing up. Let rise for 30 minutes.
Preheat oven to 190 degrees Celsius (375 Fahrenheit). Bake the rolls in the center of the oven until well risen and browned, about 30 minutes. Turn them out onto a serving plate while they are still warm, before the syrup cools and hardens.