In case you felt sorry for my daughter for losing the big birthday cake dispute: don't. I think that after eating the caramel-peanut-topped brownie cake even she did not feel sorry for herself (I mean – caramel-peanut-topped brownie cake?). Besides, she got cauldron cakes for the birthday party with her classmates.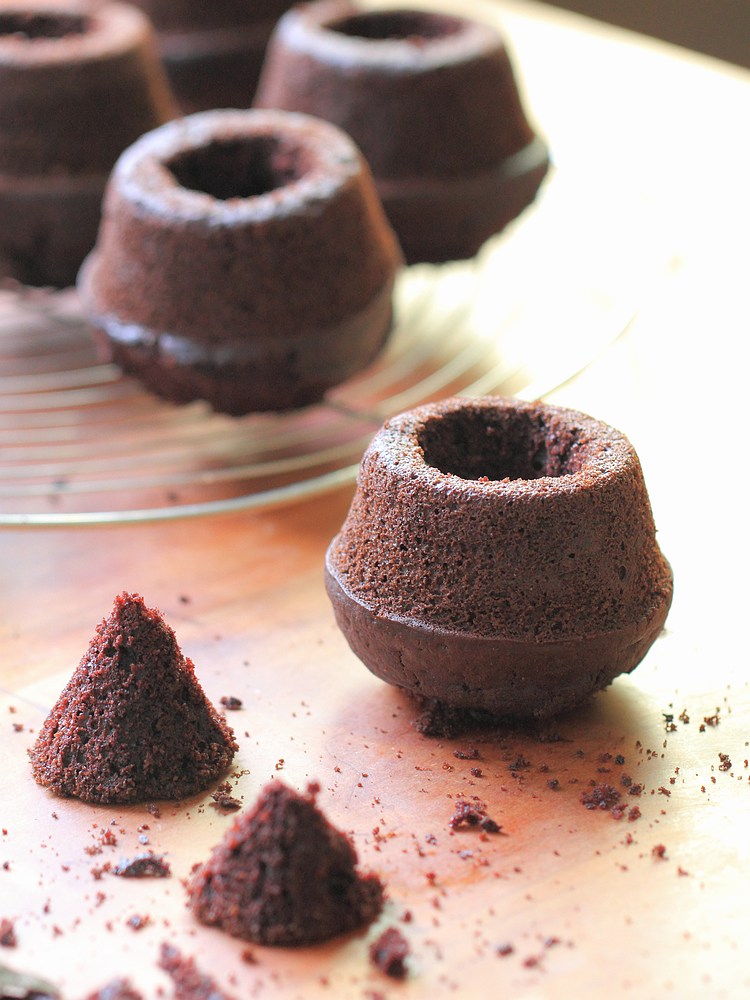 My daughter is a huge Harry Potter fan. She practically learned English through reading Harry Potter: she first read it in Czech and then Dutch (her two mother tongues) and then started reading it in English, which we thought was way beyond her level at that time. Now, after finishing the seventh volume, she's the top of her class in English and her vocabulary includes such useful words as "wand", "potion" and "cauldron".
Apparently a budding feminist, last year she also filmed her own Harry Potter movie (about 7 minutes long) that featured exclusively female characters. She played Hermione, her favorite character, that she strongly identifies with. Being smart, brave and having a great sense of justice (and somewhat bushy dark hair), I see why. Also, she does not understand things like how somebody can postpone homework (how can this be our child?) and she sets her alarm clock at six a.m. to study before school (like I said: our child?).
For her birthday party this year she and her friends took a workshop in my friend's studio, each making a mosaic frame for a mirror. And in the evening they watched the final movie from the Harry Potter series.
By the way, the golden pearls on top of the filling are supposed to simulate the Felix felicis potion. This potion "makes the drinker lucky for a period of time, depending on how much is taken, during which everything they attempt will be successful" leading to a "perfect day". I hope that for my quickly-growing-up-little-girl, it was. Cheers!
Cauldron cakes
This recipe is adopted from the great baking blog Pastry affair. I did some changes, e.g. substituting white chocolate ganache for the marshmallow filling (personal preference). After reading the comments where someone complained that the cakes were so moist, they started fall apart when being dipped in chocolate, I reduced the amount of coffee in the batter slightly. They were still very moist but when handled carefully, did not fall apart. The amount of batter filled 12 muffin forms generously and they rose so violently, I had to trim some slightly. You may want to divide the batter between up to 14 muffin forms. As I can't buy chocolate chips here, I did not use them to make cauldron feet (I just trimmed the bottom to make it slightly flat), but because you probably can, I include Kristen's instructions to make them.
Cakes:
3 eggs, room temperature
2/3 cup sugar
1 cup cocoa powder
1 tablespoon baking soda
2 1/2 cups cake flour
Dash of salt
1/2 cup vegetable oil
1 cup buttermilk
1/2 cup fresh brewed coffee
Chocolate glaze:
6 ounces (180 g) semi-sweet chocolate (chips)
4 tablespoons (55 g) butter
Filling:
2 ounces (56 grams) white chocolate, finely chopped
3 ounces (100 ml) heavy whipping cream
edible gold pearls (optional)
First start the filling: place the white chocolate in a small bowl. Bring the cream to a simmer, pour it over the chocolate and let it sit for a minute to melt the chocolate. Whisk well. Lay a piece of plastic wrap on the surface of the cream. Chill until very cold, about two hours.
Preheat oven to 325 degrees F. Grease the muffin tray.
In a large mixing bowl, beat the eggs and sugar until very full and thick.
In another bowl, whisk together the dry ingredients (cocoa powder, flour, baking soda, and salt). Alternatively add the dry and wet ingredients to the egg mixture, starting and ending with the dry ingredients. Mix until just combined. Do not over mix. Pour batter into prepared muffin forms.
Bake for 20-25 minutes, or until an inserted toothpick comes out clean. Allow to cool in the forms for 5 minutes before removing and cooling completely on cooling rack.
Take the white chocolate cream out of the fridge and beat with a whisk until soft peaks form. Be careful not to overbeat.
Make the glaze: In a double boiler, melt together the chocolate and butter, stirring until smooth. Glaze will be relatively thick. Remove from heat and let sit 5 minutes before use. If chocolate thickens too much, return to heat and stir until smooth and melted once more.
Using a small knife, cut out a cavity in the bottom of the cupcake. Run the knife in a circular motion around the cupcake, while always pointing the knife towards the center (this will make the cavity cone shaped).
Dip the top of the cupcake into the chocolate glaze. Flip the cupcakes right side up and let rest until the chocolate sets, about 30 minutes. To speed up the process, place cupcakes in the refrigerator.
To make the cauldron feet, take 3 chocolate chips and form a small triangle, placing each chocolate chip roughly an inch from the others. Place the top of a cupcake onto the chocolate chips and push down ever so slightly so the chocolate chips will stick into the chocolate glaze. Repeat for the rest of the cupcakes.
Place remaining chocolate glaze into a piping bag and pipe a chocolate rim around the edge of the opening to the cauldron. If chocolate is too thick to pipe, heat chocolate glaze up until warm and allow to sit until glaze thickens slightly. If chocolate glaze is too runny to pipe, wait a few minutes until the glaze thickens to a pipe-able consistency. Alternatively, you could use a knife to spread the glaze around the edge of the cupcake.
Spoon a little filling into the cavity of the cupcakes. Garnish the top with edible gold pearls.
To make cauldron handle, melt the remaining chocolate chips, stir until smooth, and place into a pastry bag. You don't need a special tip for this step; I simply cut off the very end of the pastry bag which was sufficient. On a non-stick mat or wax paper, pipe out the handles (feel free to use any pattern you'd like). Measure the cupcakes with a ruler to determine how wide you need to make the handles before piping. Let the chocolate set until hardened, approximately 30 minutes, before very carefully peeling off of the non-stick surface and placing into the top of each cupcake.