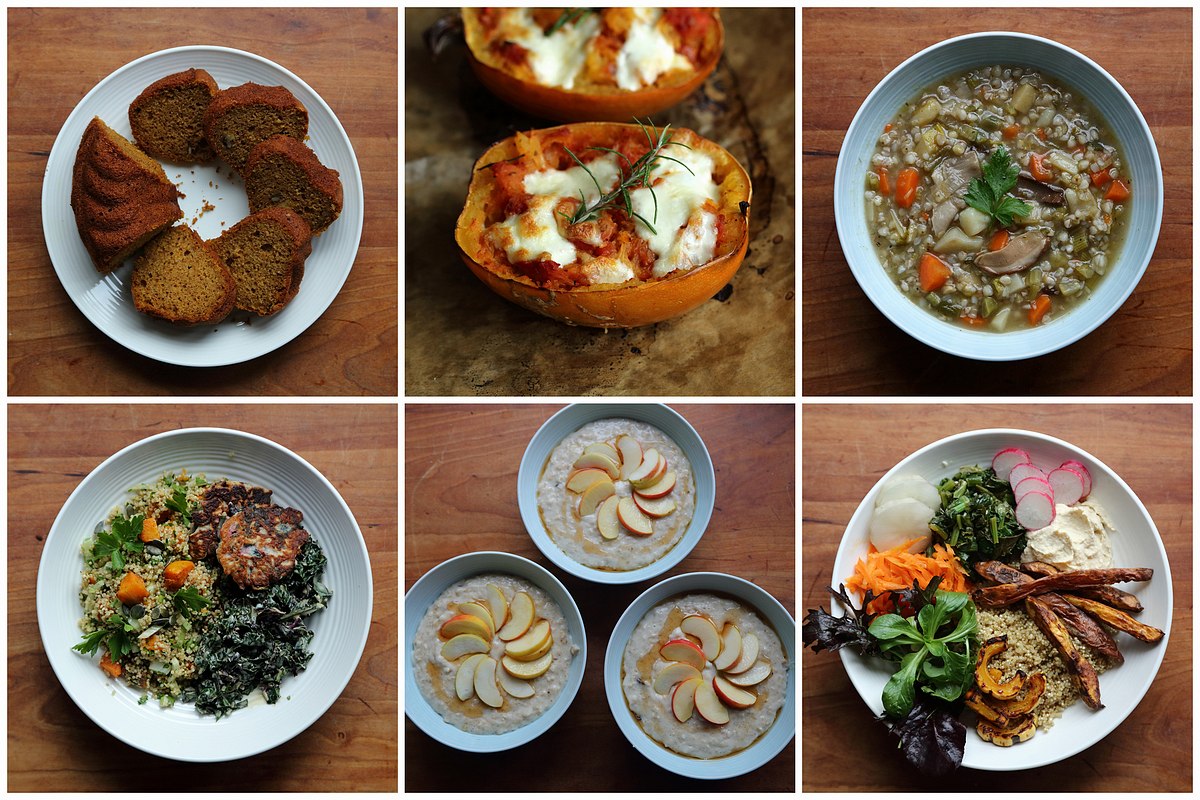 Boy, is my oven getting a workout at the moment! I'm roasting all the vegetables that I come across, I bake cakes and make granola. It's been cold, even snowing, and since we do not have a wood stove (maybe next year?), I tend to at least switch on the oven regularly. Apart from the fact that I really enjoy roasted vegetables during the winter months, it warms up our cold north-facing kitchen.
I don't really do meal-prep as such but I try to be smart about cooking – for example, when roasting potatoes for tonight, I'll also put in a baking tray with cubed butternut squash for tomorrow's dinner. Or I cook a big batch quinoa on Sunday and keep half for Monday. I also try to wash vegetables, especially salads, in advance because having them prepped makes me feel like I'm half way to dinner.
.
Here's the produce I had to work with this week:
Fresh from the garden: kale, parsnips, carrots, Jerusalem artichokes, yacon, leeks, beetroot, endive, leaf mustard, land cress, chard, fennel, oriental radishes, winter purslane, corn salad, parsley, rosemary, sage, thyme
From storage: apples, sweet potato, butternut squash, Delicata squash, spaghetti squash, regular potatoes
Pantry: dried herbs, dried beans, dried corn, porcini, dried chillies, walnuts, pumpkin seeds
And here's what we've eaten:
Saturday
breakfast: porridge with apple and maple syrup
When the temps drop, I start making porridge for breakfast. The only other person in the family willing to join me is usually my daughter (my husband only ate porridge in the honeymoon phase of our relationship) but this time my son asked if he could have some, too! And then said he liked it! I have not been able to feed him porridge since he was a toddler and even then, he was not super enthusiastic about it. Kids keep surprising you!
dinner: Winter quinoa bowl
The result of how excited I get about the harvest and also an attempt to stuff Esther with as much green stuff as possible while she's at home for the weekend: shredded carrots, sliced yacon, stir-fried mustard greens, radishes, hummus, oven baked sweet potato fries, roasted Delicata squash and winter salad leaves.
Sunday
Chard & ricotta cakes, roasted purple potatoes and beetroot-carrot-apple salad
The potatoes are ' Violette Noir' and I think I'll grow more of these next year – they're fairly productive and fun. Find the recipe for the chard cakes here and the salad here.
Monday
Quinoa with roasted butternut squash, fennel, parsley and pumpkin seeds, leftover chard cakes and kale salad
The kale salad is a recipe from Sarah Raven's latest cookbook and I had it for the first time when I took her course at Perch Hill farm in October – it's delicious!
Butternut squash bundtcake with speculaas spices
While I was at it, I roasted the rest of the squash and baked a cake with it. And because this week we celebrated the Sint Nicolas feast, I threw in some of the traditional spices.
Tuesday
Winter vegetable soup with porcini and buckwheat
A filling soup with lots of veggies: leeks, fennel, carrots, parsnips and potatoes. Even though this is one of Sebastiaan's favourite soups, he does not like the porcini and will carefully remove them and put them in  my bowl. As long as he eats the rest, I'm fine with that.
Wednesday
Spaghetti with kale & sage pesto, roasted beets and brie
Not the prettiest dish but really delicious and one I will make again.
Thursday
Roasted spaghetti squash with tomato sauce and mozzarella
I was writing an article on spaghetti squash and wanted to take some photos of what it looks like baked, so this is what we ended up having for dinner.
Friday
dinner: Leek quiche with spelt crust
On Saturday I was gone in the afternoon and Remco made a favourite butternut squash soup from the archives – super fast and simple but lovely (especially when you come home cold on a snowy evening). We used up most of the fresh vegetables that we'd picked last Friday, there are just some parsnips in the cellar and two bulbs of fennel that I want to make a salad from.
So this was our week of eating from the garden, I hope you found it inspiring. And if you have any favourite recipes for winter vegetables, do share!