Even though I still call our garden 'the new garden', we have a full year of tending our dream plot behind us and it may be time to drop the 'new'. I can't wait for the 2017 season to start but as it is currently freezing and I have already pruned all my fruit trees, I thought I would give you a recap of our first season. Since I always feel like we're running behind and doing just half of what needs doing and only about a tenth of what I would like to get done, it is great to go through these photos and think to myself 'wow, look how far we've come!'. Thankfully, we've had awesome friends help with the two biggest jobs, fencing and pond construction. But there was also the unexpected and wonderful gift of our friends' teenage son Romeo who's come to help almost every weekend. He's not only strong and willing to tackle any job with enthusiasm but also great company. Obviously it is heartening to see there are teenagers who actually enjoy gardening but I'm also grateful for this connection we get to experience. I think it is important that children have more grown-ups in their lives than just their parents and I'm glad we get to be someone's honorary uncle and aunt. But before I get too sentimental, let's have a look at the garden month by month!
January
We started by making a rabbit-proof fence around the whole plot. It turned out to be successful, right until our neighbour had his plot ploughed and made several large holes in the wire mesh in the process. We're thinking of adding a second layer this year – hopefully it will be sufficient. We started moving our raised beds and filling them with compost that was left behind by the previous tenants in an overgrown heap with quite a lot of debris.
February
12 raised beds installed and filled with compost – 6 to 7 wheelbarrows per bed. I planted the first tree – a walnut and also made a plan for the kitchen garden which is a job I tend to procrastinate.
March
Tons of fruit trees and bushes planted during the Easter weekend plus an edible hedge along two sides of the plot. First vegetables planted and sown in the kitchen garden.
April
Paths in the kitchen garden covered with wood chips which makes a lot of difference both for looks and maintenance. Daffodils flowering in the cottage garden.
May
Things looking greener by the day. We covered part of the plot with cardboard to kill perennial weeds and planted some winter squash through it.
June
New pond! (there's a post about the construction here).  We've also made a hugelbed using all kinds of left over woody materials and the soil excavated from the pond.
July
The cottage garden became a riot of colour, a source of nectar for the bees and beautiful bouquets for us.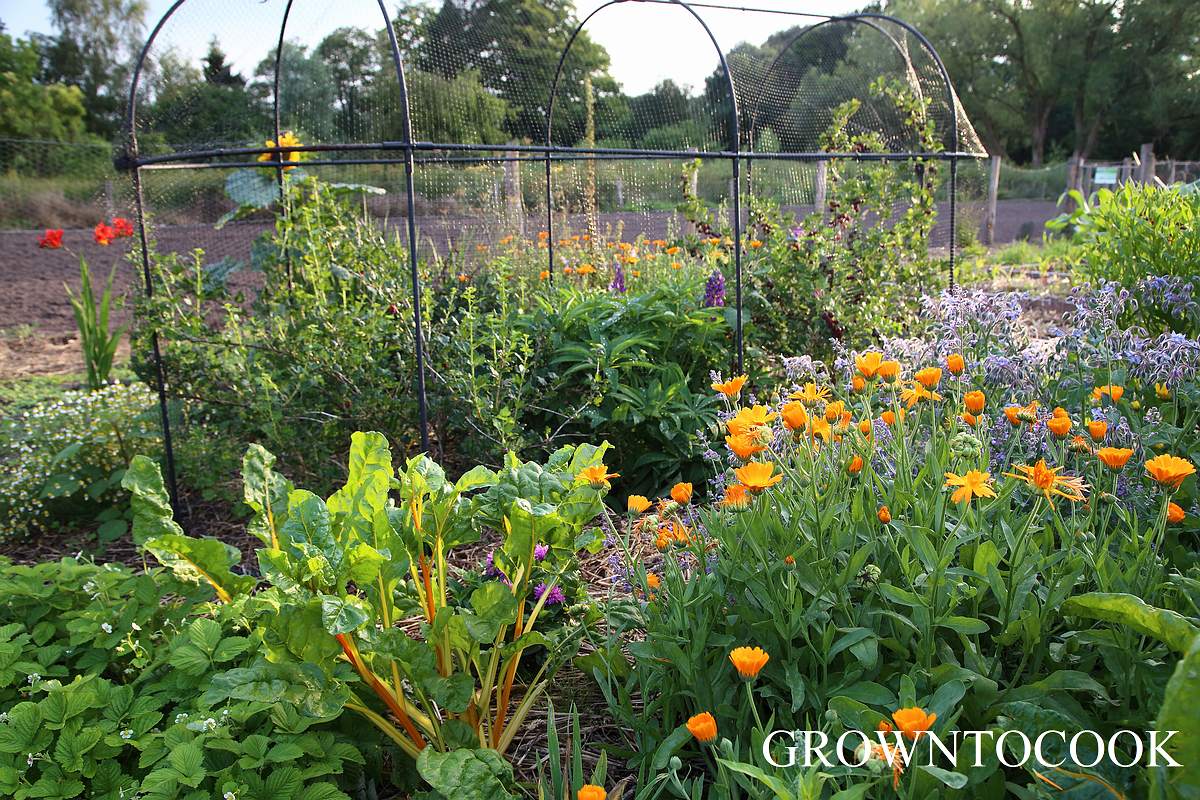 August
We returned from our holidays to a garden full of beautiful produce and frogs and toads– yes, the pond had become a magnet for wildlife. Hopefully the frogs and toads keep slugs in check.
September
We filmed a tour of our kitchen garden and picked tons of pears from our beautiful tree.
October
Lots of unusual and colourful vegetables came to their own this month: artichokes, sweet potatoes, chines kale…  Also seven varieties of winter squash (that we made a video about).
November
We had fun filming our 'Harvesting in November' video – showing the variety of produce still available this month. I also planted hundreds of flower bulbs  many of which unfortunately seem to have been eaten by mice.
December
Things are winding down, some pruning to be done and empty beds to be mulched, but slowly the garden is going to sleep.
I hope you enjoy this walk down the memory lane! I'm off to dream up a plan for 2017 🙂