As I'm typing this post we are experiencing a record-breaking heat-wave which makes it difficult to remember that there was actually a freakish frost at the beginning of the month. 'Freakish' because frosts are not supposed to happen around here after mid-May. Apparently the weather gods are toying with us! (Again). Fortunately, both our allotment and the community garden are fairly sheltered and so we did not lose any of the non –hardy vegetables that had already been planted out.

On the bright size, the freakish heat now means heat-loving vegetables are growing splendidly and tomatoes and eggplant are already bigger and stronger than they ever got last year.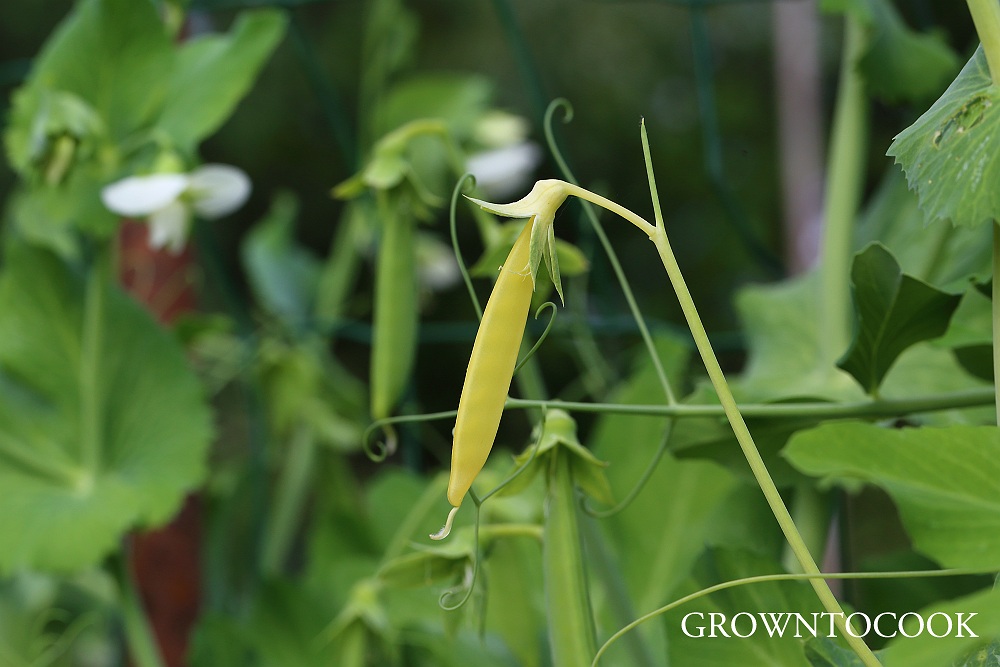 The sugar snap peas are cropping abundantly and I'm doing my best to keep up. This year, I'm growing the green 'Cascadia' and yellow 'Opal Creek'. The 'Opal Creek' plants are taller and a lot more productive but taste-wise I prefer the 'Cascadia' which is plumper and sweeter.
There's also a lot of lettuce that needs to be eaten before it gets a chance to bolt. Fortunately, eating lettuce is something I have trained the whole to do gladly. I'm harvesting white turnips and trying to come up with something else to do with other than roasting.
Every time we go to the allotment, I spent quite a bit of my time picking the tiny, but delicious wild strawberries that I planted as a ground cover under my fruit trees. The large garden strawberries are tasteless in comparison.
I wrote a bit about my polyculture bed before and here's a little update: after I picked bag-fulls of mustard greens, I'm now harvesting small lettuces and tiny carrots. The vegetables need to be picked early, before they are fully grown, in order to make space for other crops. There's also lots of dill and some beets and spring onions that I'm letting get a little bigger.
The fruit tree guilds in the northern part of the garden are looking amazingly lush (considering they are never watered) and the trees are looking healthy. I am working on a chapter about edible forest garden design for my book and trying to formulate some of the things that I've been doing intuitively in my guilds.
Polycultures are everywhere in my garden and they can be done on any scale. Here is a small one grown in container: Tuscan kale, lettuce, chard, citrus marigolds, dill and nasturtiums. All of the plants are edible but the herbs also attract beneficial insects (dill, nasturtiums) or confuse pests with their strong scent (citrus marigolds).
And now, if you'll excuse me, I think I'm going to hide in the fridge until the temperature returns to some kind of 'normal'.
p.s. Here's what the garden looked like in June 2013 and 2014 and here are some garden jobs for July.