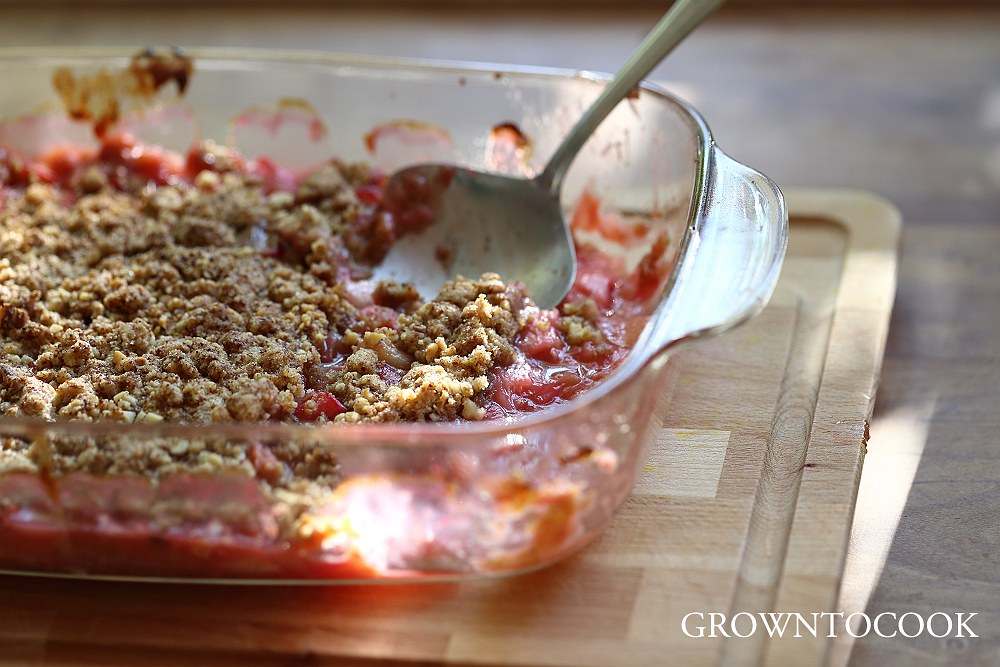 Every year I put a considerable amount of thought into the first rhubarb dish of the season. I usually cover one of our 20+ plants (I've been meaning to count) with a big bucket to force and blanch it and that becomes our earliest and most exciting harvest.
The beautifully pink stalks are so tender and comparatively mild tasting that I can even nibble on them raw. And than I make the first celebratory rhubarb dish of the season. It needs to be simple since I don't want smother the delicate stalks in other ingredients. Last year I made poached rhubarb with yogurt cream.
This year it was the simplest of rhubarb bakes – rhubarb crumble.

I came to crumble fairly late in life and I'll never forget the first time I ate it. Let me paint the picture: a beautiful day in June, warm and sunny, at Sarah Raven's Perch Hill Farm in Sussex, one of the most beautiful places I have ever been to. After having travelled by train for most of the day, I arrived late in the afternoon to volunteer in the gardens for a week.
Bea, the head gardener, who turned out to be the sweetest person and warmly welcoming to a total stranger who was to spend a week in her home, gave me a tour of the gardens and while we walked through the kitchen garden she snapped off a few asparagus spears and gathered a bunch of rhubarb stalks. Later she made an asparagus risotto and rhubarb crumble for dessert while we chatted in the large open kitchen. She cooked with the confidence of someone making a familiar dish and not needing a recipe. There was plenty left and we ate the rest of the crumble over the next few days, pouring thick English cream over each serving. Even though I spent the week working in the gardens, it was a vacation. I am thankful to Bea for letting me stay, for feeding me, for taking me to visit the iconic gardens at Great Dixter and Sissinghurst and for being such a good company.
It was so much fun spending a week with someone who likes to talk gardening as much as I do! Later I got to repay the favour when Bea came to visit us in the Netherlands and we went to see the spring bulbs at Keukenhof (though I think we both preferred Great Dixter).
This crumble is a little different from hers. I use cane sugar and add walnuts to the topping. Like every crumble it is utterly simple to make. Like every rhubarb dessert it relies on the compelling combination of sweet and sour. You want to know what it tastes like? Like walnut cookies crumbled over stewed rhubarb. Very good.
Rhubarb crumble
700 g (1 ½ pounds) rhubarb, trimmed and cut into 1 cm (1/2 inch) pieces (about 900 g before trimming)
50 g (1/4 cup) cane sugar
½ tbsp vanilla extract
1 tbsp cornstarch
Topping:
45 g (1/3 cup) all-purpose flour
75 g (1/2 cup) whole wheat flour
1 tsp baking powder
115 g (1 stick) cold butter
3 tbsp cane sugar
3 tbsp coconut blossom sugar (or brown sugar)
50 g (1/2 cup) walnuts, chopped
Preheat the oven to 190 degrees Celsius (375 F).
Put the rhubarb together with the sugar, vanilla and cornstarch into a heavy bottomed pan, cover and simmer gently until the stalks are just tender, about 5 minutes. Pour the rhubarb into a shallow ovenproof dish (I used my Pyrex dish). And let cool a little. Meanwhile make the topping by rubbing the butter together with both flours and the baking powder between your fingers, until resembling coarse breadcrumbs. Add both sugars and walnuts. Cover the rhubarb carefully with the topping and bake for 35 to 40 minutes, until golden brown on top. Serve with cold cream if you wish, either whipped or just poured.