In terms of money, fruit trees are an awesome investment. The very first tree I ever planted was a plum, more specifically "Mirabelle de Nancy" . The half-standard tree from a local organic nursery cost 12 Euro then (ten years ago). Even though I have planted many trees since, I still feel like I felt that first time: that for such a miraculous event, planting a tree is suspiciously simple. Make a hole, loosen the soil, add compost and some calcium if the soil is acidic (ours is). Put the tree in and, taking care not to bury the place where the tree is grafted on a rootstock, fill the hole up with soil again. Water, mulch. Wait.

Three years later the tree started producing sweet yellow plums and has done so ever since. This year we've picked over twenty kilo (there is still more on the tree). Last Saturday we were shopping in the local organic store and saw mirabelles for sale: 250 g for 3,79 Euro (what?!). That means that if we were buying the plums, the 20 kilo would have cost us 303 Euro.The tree has earned us the initial investment back many times over.
Esther loves the mirabelles and for the past weeks she filled her lunch box with them to take to school. Picking the plums is the only garden job she does voluntarily. One Saturday morning she got carried away and picked 10 kilo in one go, so the rest of the weekend was spent canning.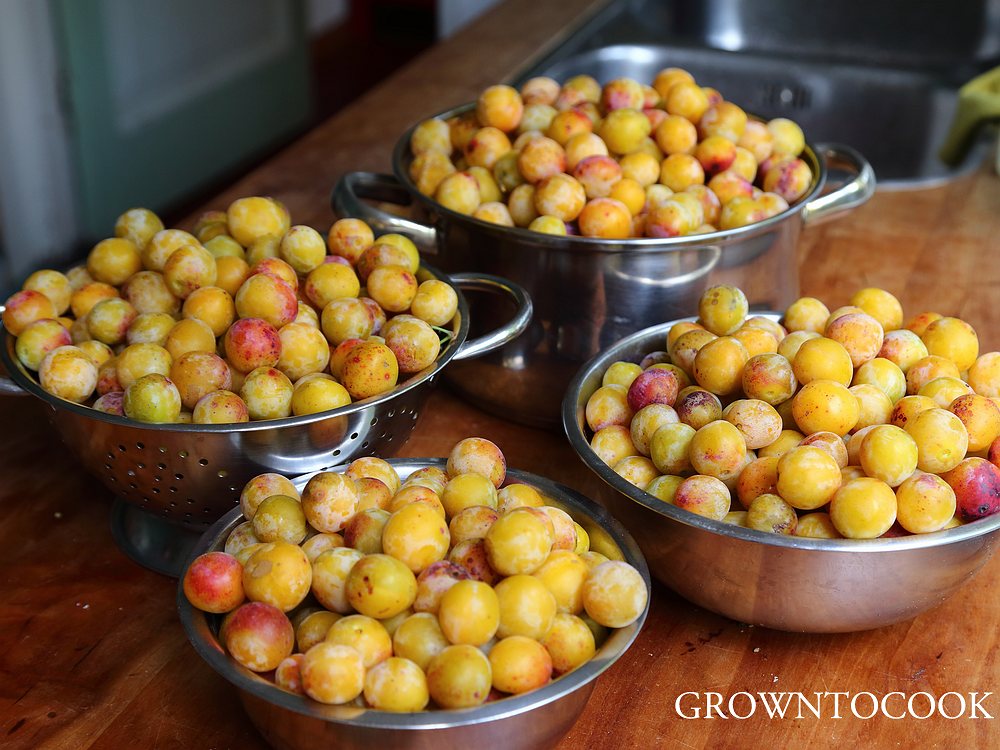 But on Sunday I also made buckwheat pancakes and a quick compote from a mix of the fruits that we have an abundance of now: mirabelle plums and blackberries.
As we're gliding into fall, a cooked breakfast on a weekend felt more appropriate than our usual smoothie. The spices (cinnamon and star anise) are in tune with the leaves turning noticeably yellow.

You can use any kind of plums you can get (hopefully cheaply or for free).
Buckwheat pancakes with plum and blackberry compote
150 g (1cup) whole buckwheat flour
125 g (1cup) unbleached (all-purpose) flour
3 tablespoons cane sugar
2 teaspoons baking powder
1 teaspoon baking soda
½ teaspoon salt
½ teaspoon ground cinnamon
375 ml (1 ½ cups) buttermilk
2 eggs
40 g (3 tablespoons) butter, melted and cooled (or oil)
(coconut) oil for frying
Fall fruit compote
700 g (11/2 pounds) plums
250 g ( 2 heaped cups) blackberries
2 star anise
½ tsp cinnamon
2 tbsp honey (or more depending on the sweetness of the plums)
In a medium bowl, mix together both flours, sugar, baking powder and soda, salt and cinnamon.
In another bowl (or a measuring jar) mix the buttermilk, eggs and melted and cooled butter. Pour the liquid ingredients into the flour mixture and stir to combine, but do not overmix.
Heat a cast iron skillet over medium heat. Add a little oil to the pan and drop 3 mounds of batter into the pan (about 80 ml/ ¼ cup each). Leave undisturbed until fine bubbles form on the surface. Flip over and cook until browned on the other side as well, about 1 more minute. Serve straight from the pan, or keep warm on a platter in a low oven.
Serve the pancakes with a generous serving of the warm compote.
To make the compote: Combine all ingredients in a medium pan, add a little bit of water, cover and bring to boil. Simmer until the fruit releases the juices and softens, about 10 minutes. Taste and adjust the sweetness if necessary.