Last Monday I celebrated my 39th birthday. Remco teasingly reassured me: "You don't look a day over 38, honey" but I'm sure I have changed in many small ways since last year and that is exactly as it should be. Time has etched some new wrinkles in my face to mark its passage. I hope that I have become a little wiser too, though I cannot really give any proof of that.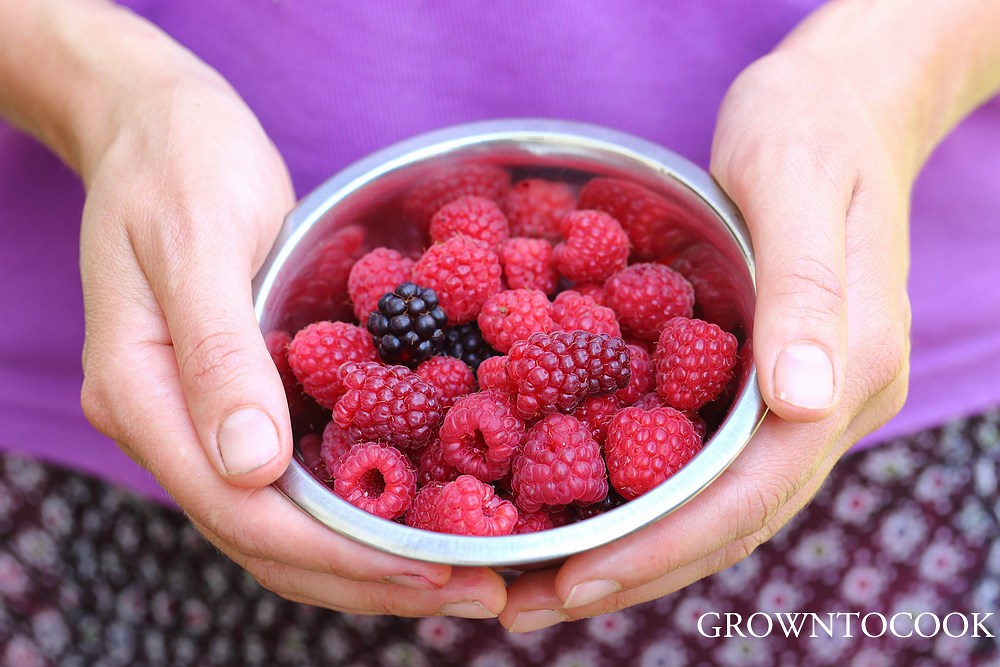 But many things are exactly the same as last year: once again I celebrated my birthday at my parents' summer house in the Czech Republic, with my family. My sister came over with her kids who were so excited about their presents that I was informed they'd made me a necklace before I could unwrap anything. Like last year, the day was sunny and hot. Also my taste regarding birthday cakes remains remarkably unchanged: I still like chocolate and seasonal fruit and I prefer the lightness of whipped cream to butter cream filling.
The recipe for the cake was taken from the same old Czech cookbook I used last year, of which most Czech families have a copy and which is the only cookbook we have here. For the filling I foraged in the garden: I picked raspberries with a few Logan- and a few Tayberries thrown in – anything that was ripe. I was originally planning to use the berries for decoration but then it occurred to me it would be much better to make them a part of the filling. So I mashed half of them and folded them into the whipped cream in a raspberry fool-style which provided a nice hint of tartness in the sweet cake. Plus pink, as my three year old niece would have you know, is the best color for anything, including cake filling.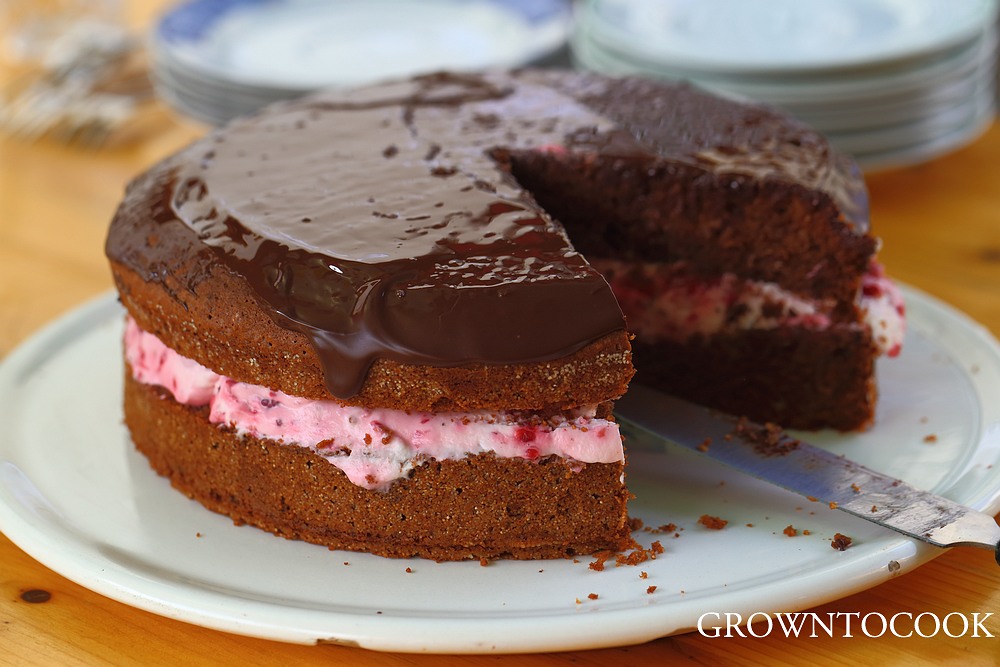 We ate most of the cake during my birthday party but had the leftovers with coffee the next day and the cake was equally good if not better.
Isn't it a shame to limit birthday cakes to birthdays? I miss mine already.
One year ago: Chocolate and sour cherry birthday cake
Chocolate raspberry birthday cake
Recipe for the cake batter is from M. Sandtnerova: Kniha rozpoctu
150 g dark chocolate
140 g butter, at room temperature
230 g sugar
6 egg yolks
280 g ground almonds
120 g all-purpose flour
8 egg whites
Filling:
180 g raspberries
2 tbsp confectioner's sugar
250 ml whipping cream
Glaze:
100 g dark chocolate
Preheat the oven to 180 degrees Celsius (360 F).
Chop the chocolate roughly and melt it in a double boiler, then let it cool slightly. Cream butter and sugar in a large bowl, until light and airy. This takes quite a long time if you do it using a wooden spoon and muscle power (the cookbook suggests beating for 30 minutes!) but will obviously be much faster and less tiring in a food processor. Since we do not have a food processor here, I got my father to do it, while he was reading his newspaper.
Add the egg yolks one by one, beating after each addition. Add melted chocolate and stir well. In a medium bowl, mix the almonds with flour. Whip the egg whites until holding their peaks and quite firm. Gently fold some of the egg whites into the egg yolk mixture. Add some of the almond-flour mix. Continue adding the egg whites and almond-flour alternating between the too and folding them gently into the batter.
Butter and flour a 22 cm (9 inches) springform pan. Pour the batter into the pan. Bake the cake in the preheated oven until an inserted skewer comes out dry, about one hour. Let cool slightly before taking the cake out and letting it cool completely.
To make the filling, put half the raspberries in a medium bowl, add the confectioner's sugar and mash with a fork. Add the remaining raspberries whole. Whip the cream until the peaks hold their shape and fold it gently into the raspberry mixture.
To assemble the cake, slice it crosswise in half. I also cut the domed top off to flatten it, but that is not necessary. Spread the filling on the bottom half of the cake and cover with the top half. Melt the chocolate in a double boiler and pour on top, spreading it evenly with a flat knife. Refrigerate the cake before serving, for at least an hour.