If you've been around since last year, you might have read my post about the abdication of queen Beatrix and her son Willem Alexander succeeding to the throne. The post also includes a picture of our whole family (my parents were visiting and joined in too) in ridiculous orange gloves wearing a crown so I encourage you to check it out, if you still have any illusions about us being decent people…
The only noticeable change this brought us was the celebration of the monarch's birthday being moved from 30th April to 27th April. Since 27th this year was Sunday the celebration was moved to Saturday but it still meant we did not even get a day off out of it this year.
How do the Dutch celebrate their king's birthday, you wonder?
They put on something orange and set up huge flea markets in every city – they are a nation of tradesmen after all. My daughter decided she needed some cash, so she spent Friday baking and Saturday selling brownies and cupcakes on the flea market in the city. She almost sold out and since she dutifully kept track of her expenses and earnings, I suppose it was a good learning experience too.
I decided that the best way to celebrate, was doing what I wanted to and that happened to be going to the allotment and clearing the rhubarb patch. We inherited the rhubarb plants along with the allotment and there are many – more than even I can use. Last year we were so busy making new beds and generally making the allotment our own that we never got around to weeding the rhubarb plants. By mid April the patch was more weeds than rhubarb. But thanks mainly to Remco's heroic efforts it is now almost weed free and the rhubarb plants are prominent once again. It just needs a good thick layer of mulch and I might even be willing to share a picture 🙂
We picked some of the rhubarb too and on Sunday I made these darling tartelettes. The fact that rhubarb and corn flour are a great combo has by now been firmly established and this recipe only confirmed it. These tartelettes look more polished than the rustic free-form tarts from 2 years ago, which happens when you bake things in fluted tart pans, but the filling is different too. It is a mix of rhubarb puree and whipped cream, essentially a rhubarb fool. It is good on its own too, but the crust with its corn meal crunch provides a nice contrast in texture.
Of course, there is no need to put edible flowers on top, but I could not resist. I picked what is flowering in the garden right now, which happened to be electric blue anchusa, but rose petals, Johnny-jump-up, violets or borage would be pretty too.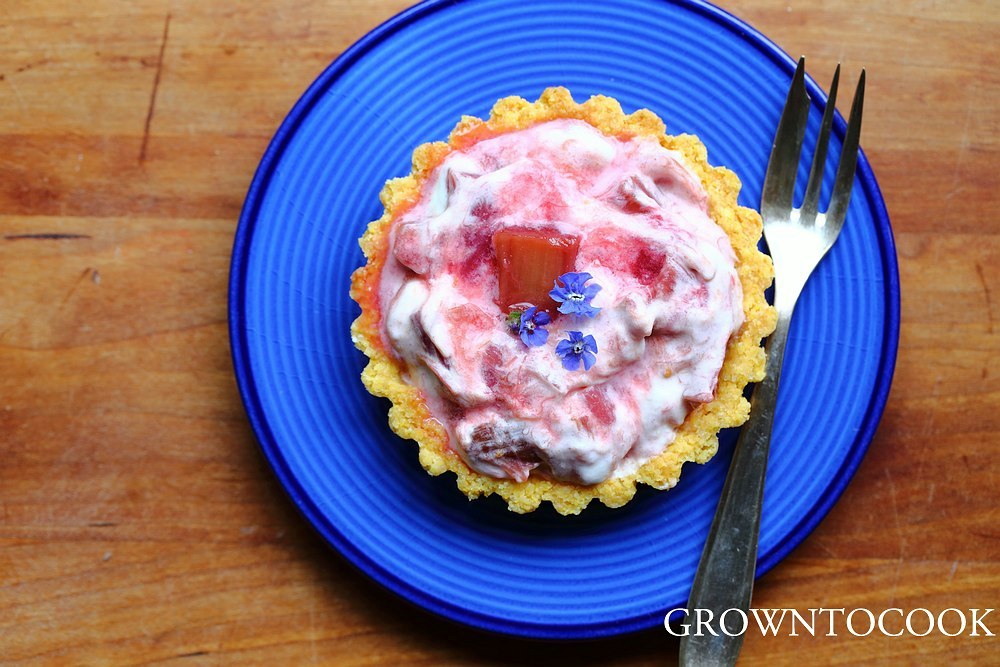 Rhubarb tartelettes in corn meal crust
Adapted from Deborah Madison: Seasonal Fruit Desserts
If you don't have individual tart pans, you can also bake the dough in a larger tart pan to make one large tart.
150 g (1 cup) all-purpose flour
90 g (½ cup) fine corn meal
¼ tsp salt
1 tbsp sugar
115 g (1 stick/ 8 tbsp) cold butter, cut into chunks
1 egg yolk
½ tsp vinegar
1 tsp vanilla extract
2 to 3 tbsp ice water
To fill:
500 ml (2 cups) rhubarb puree (recipe below)
125 ml (½ cup) cream
edible flowers (anchusa, rose petals, borage, Johnny-jump-up, violets) to decorate (optional)
Put the flour, corn meal, salt and sugar in the food processor and pulse to mix. Add the chunks of butter and pulse to turn into rough crumb with chunks of butter still visible. In a small bowl, mix the yolk with vinegar, vanilla extract and 2 tablespoons of water. Dribble the mixture into the doug while pulsing just a few times. Turn the dough out and gather the crumbs with your hands. Add more water if needed, but no more than necessary to make the dough come together. Divide into 6 pieces and press each piece into a 10 cm (4 inch) tart pan, working it evenly up the sides and leaving the bottom a bit thicker (you may have a little dough left). Chill the tarts in the fridge while preheating the oven to 190 degrees Celsius (375 F).
Line each tart shell with a piece of parchment and fill with dried beans or pie weights. Put the weighted tart shells on a sheet pan and bake for 15 minutes. Take the shells from the oven and reduce the oven temperature to 175 degrees Celsius (350 F). Remove the paper and the weights and return the shells to the oven. Bake until golden, about 5 to 10 minutes. Let cool and then carefully remove them from the pans.
To make the filling, whip the cream until it forms soft peaks. Fold in the rhubarb puree.
Fill the tartelettes with the mixture and decorate with edible flowers if you wish.
Alternatively, fill the tarts just with the rhubarb puree and serve the cream on top or on the side.
Rhubarb puree with orange
1 1/4 kilo (2 ½ pounds/ about 10 cups chopped) rhubarb
200 g (1 cup) cane sugar
grated zest and juice from 1 organic orange
Trim the rhubarb. If the stalks are very thick, they might need peeling. Chop them into 2,5 cm (1 inch) chunks and put them into a large thick-bottomed saucepan. Add sugar and orange zest and juice. Cook over medium heat, until the rhubarb has broken down into a rough puree – you don't want it to become too uniform – for about 15 to 20 minutes. Chill completely. If there is a lot of juice, you might want to drain a bit. It can be reduced and served over yogurt or ice cream.