There's so much to pick and enjoy in fall, apple orchards and pumpkin patches to visit. But it would be a shame to forgo supernutritious fruits that you can usually get for free: elderberries. The large shrubs/small trees are so toough that they grow even under very inhospitable circumstances: in half-shade and poor soil. They pop up on neglected plots and along roads. They 're tolerant of air pollution and can thrive in the middle of the city. There are several shrubs in my neighbourhood and I can't walk past a bush laden with ripe berries and not think about the many possibilities to use them, no matter how many apples we have in the cellar.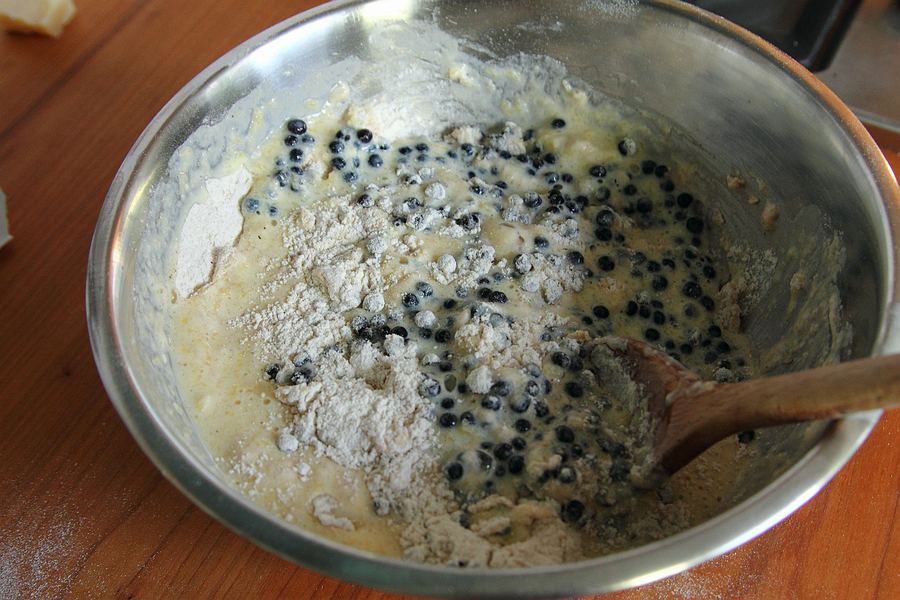 Inspired by their similarity to blueberries (at least in appearance), I thought that elderberries would make a great addition to pancakes. I picked some berries from bushes growing at the beginning of our street and made the pancakes for lunch to surprise the kids. The pancakes were not only delicious, the nutty buckwheat batter speckled with purple berries that pop when you bite into them, but they were also easier to make than with blueberries. Elderberries are quite tiny and can easily be folded into the batter, so the pancakes hold better together.
If your elderberry season is over: the buckwheat batter is so good, the pancakes are great even without berries.
Elderberries previously:Elderberry compote with Greek yogurt
Elderberry buckwheat pancakes
150 g (1 cup) whole buckwheat flour
125 g (1 cup) unbleached (all-purpose) flour
3 tablespoons cane sugar
2 teaspoons baking powder
1 teaspoon baking soda
½ teaspoon salt
½ teaspoon ground cinnamon
375 ml (1 ½ cups) buttermilk
2 eggs
40 g (3 tablespoons) butter, melted and cooled (or oil)
150 g (1 cup) elderberries
oil
In a medium bowl, mix together both flours, sugar, baking powder and soda, salt and cinnamon.
In another bowl (or a measuring jar) mix the buttermilk, eggs and melted and cooled butter. Pour the liquid ingredients into the flour mixture and stir to combine, but do not overmix. Fold in the berries. Heat a cast iron skillet over medium heat. Add a little oil to the pan and drop 3 mounds of batter into the pan (about 80 ml/ ¼ cup each). Leave undisturbed until fine bubbles form on the surface. Flip over and cook until browned on the other side as well, about 1 more minute. Serve straight from the pan, or keep warm on a platter in a low oven.
Serve with maple syrup, or do what I did: melt about equal amounts of butter and honey in a small saucepan, whisk to combine and pour over the warm pancakes.