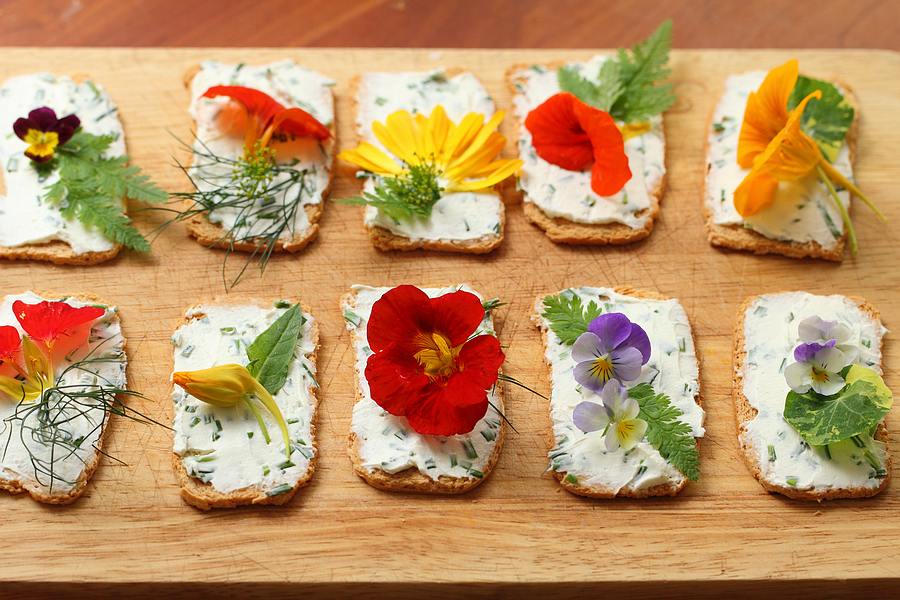 To be honest , canapés are something I hardly ever bother to make. Adding one more dainty dish to the menu when entertaining, is often the thing that can bring you one step too close to  a nervous breakdown.
But these are so easy to make, yet pretty and unusual, that they are definitely worth the little trouble it takes. Decorating the canapés is a task that children would probably enjoy doing, so put them to work, if you can. The edible flowers make them happily summery, perfect as a starter for a dinner served in the garden or at a tea party (I imagine – I only daydream about hosting tea parties).
If you need to pick your flowers in advance, I find it best to treat them as cutflowers, i.e. cutting them with a short stem and keeping them in a small vase in the fridge.
For more on edible flowers see previous post.
Edible flower canapés
Adapted from Rosalind Creasy,The Edible Flower Garden (Edible Garden Series)
Prepare the cream cheese mixture in advance, but don't make the canapés more than a couple of hours before serving. The melba toast tends to go soft, so if you need to make them in advance, bread would be a better option.
180 g (6 ounces) cream cheese (that's 1 package here but might seem like a strange amount to folks from other places)
Salt
2 tbsp fresh chives, finely chopped
1 package melba toast or a few slices of sandwich bread, crusts removed and cut into rectangles
Edible flowers such as: borage, nasturtiums, calendula (just the petals), rocket and jhonny-jump-umps)
Herb leaves: dill, fennel, chervil, nasturtiums leaves
In a medium bowl, beat the cream cheese with a wooden spoon. If it's very thick, add a tablespoon of milk (or water) to achieve an easily spreadable consistency. Add the chives and salt to taste. Spread the cream cheese mixture on the toasts (or bread rectangles) and decorate with edible flowers and herb leaves. Cover loosely with a plastic wrap and refrigerate until needed.