Most of the recipes that I share are centred around seasonal produce. We grow a lot of what we eat and eating with the seasons is a pleasure, not a restriction.
But I like how my birthday cake this year is tied not only to the season but also to a very specific place. My birthday at the end of July usually falls in the middle of our summer vacation and we are almost always in my parents' summer house then. It is in a small village in the western part of the Czech Republic, the house itself an old farmhouse.
Just outside the village, next to the sand road we take when we walk to the woods, stands a sour cherry tree. This tree for me is the only way to lay my hands on sour cherries, since I never see them for sale and few people grow them. Last year the tree did not bear any fruits, probably because it got hit by a late frost. This year I braced myself for another disappointment but we were lucky – there were plenty of cherries,  bright red and ripe. We picked a basket and I tried to make the most of them, beginning with my birthday cake.
I have long wanted to make the classic "Black forest gateau" because:  chocolate and cherries? Has to be good! I had a recipe ready, one using fresh sour cherries. But I left the recipe at home and had to resort to an internet search using the super slow connection on my phone. I looked at dozens of recipes, in several languages and even found a couple of recipes in German labelled "Schwarzwälderkirshtorte original rezept." Beside featuring chocolate and cherries, the recipes were all different, but in all the recipes, canned cherries were used. That was not what I was after, so I started improvising. I made a quick compote from the fresh sour cherries, baked a chocolate cake from an old Czech cookbook, added lots of cream and ended up with my dream cake – a black forest cake tribute.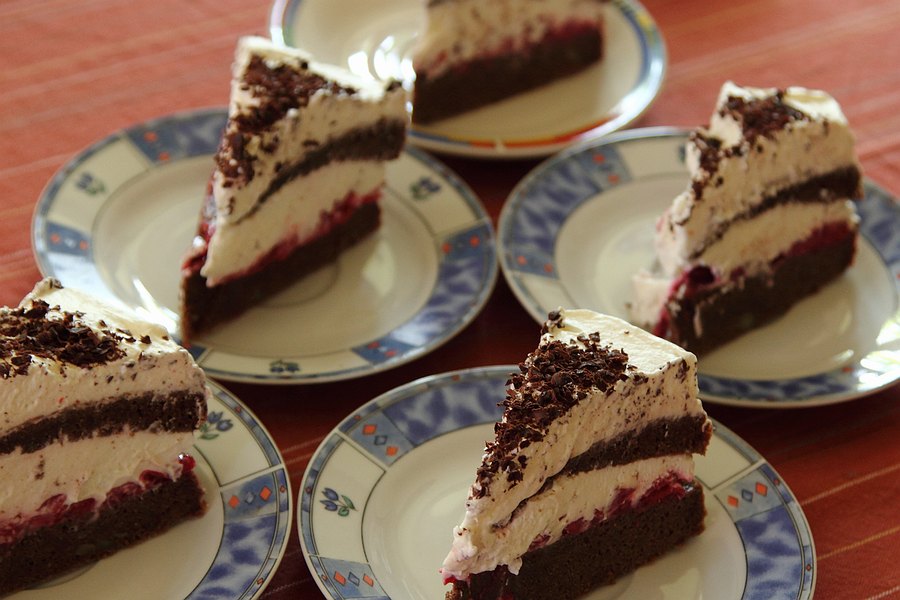 Chocolate and sour cherry birthday cake
Recipe for cake adapted from M. Sandtnerova: Kniha rozpoctu a kucharskych predpisu
My cake did not rise very well (though the taste was great) which might have been caused by the very high summer temperatures. If your cake rises better, you could cut it into three layers. I made the amount of compote below, but only used half of it in my cake, which seemed to be plenty but could have been more. Next time I would try to use all of it, either on top (beneath the cream) or by making three layers. And even if you don't use all of the compote for the cake, having leftover sour cherry compote in the fridge is a good thing. I especially liked it spooned over yoghurt.
Both the cake and the compote can be made in advance and assembled later. In fact the leftover cake tasted even better the next day and you could probably even assemble it a day before.
Cake:
60 g (1/2 stick) butter
120 g (1/2 cup + 1 tbsp) sugar
6 egg yolks
1 tsp vanilla extract
60 g (2 ounces) bittersweet chocolate
6 egg whites
60 g (2 ounces) almonds, unskinned
60 g (2 ounces) all-purpose flour
Sour cherry compote:
700 g ( 1 ½ pounds) sour cherries
150 g (3/4 cup, 8 tbsp) sugar
180 ml (3/4 cup) water
½ tsp ground cinnamon
To finish:
500 ml (2 cups) cream
2 tbsp sugar
About 20 g chocolate, grated
Preheat the oven to 180 degrees Celsius (360 F). Butter and flour a 22 cm (9 inches) springform pan.
To make the cake:
For the best texture,  grind the chocolate and almonds by hand in a handheld nut  grinder. Or pulse them in a food processor, being careful not to turn them into a paste.
In a medium bowl, cream together butter and sugar. Add egg yolks and vanilla and beat until incorporated. Add ground chocolate and almonds and flour. Whisk egg whites until firm, but still moist and not too stiff. Add about a quarter of the egg whites to the batter and stir to loosen the texture. Fold in the remaining egg yolks, being careful not to lose all the air.
Pour the batter into the prepared springform and bake in the preheated oven until an inserted skewer comes out dry. Let cool.
To make the compote:
Pit the cherries . I did not have my handy cherry-pitter here so I did that by making a small slit on top of each cherry and popping the pit out; when the cherries are ripe, the pit comes out easily. In a heavy bottomed  saucepan, combine water and sugar. Boil for about 10 minutes, then add cherries and cinnamon. Simmer for about 15 minutes, then take out the cherries with a slotted spoon. Boil the remaining juices down to about half.
To assemble the cake:
Slice the cake crosswise in half (or in three layers if your cake is high enough). Pour a couple of tablespoons of the cherry syrup on each half. Spoon about half of the cherries over the bottom half of the cake. Whip the cream with the sugar and spread half of the cream over the cherries. Cover with the top half of the cake. Either spread the rest of the cherries on top followed by the rest of the cream, or just the cream. Decorate with grated chocolate. Refrigerate until needed.