Last week one of my best friends came for a visit. She lives 900 km away and this was the first time she and her family visited us here in the Netherlands. She's one of my oldest friends and one of my very best friends. Old friends are important and friendships are cemented by shared history. You can't make new old friends.
We met on a summer camp in 1991 when we were 17. We've always kept in touch even though we lived in different cities. We wrote letters (like: on paper) and visited each other once or twice a year. Then years later, I got married and than a year later she got married and than I had a daughter and a year later she had a son and than I had a son and she had a daughter. Now each summer we get our families together for at least 4 days and while our kids play together, we cook together and tcatch up. Because I don't see her kids more than twice a year, the changes they go through are noticeable each time (we moms, on the other hand, don't change at all!). They grow in every sense of the word. Her son (who's 12 years old now) likes to play with fire and try to get things to explode. He also plays saxophone and makes movies. Couple of years ago he emailed my daughter: "I got an idea: What if we got married?". And has considered himself her fiance since she never said no. It bugs him that his classmates don't believe, he's got a girlfriend in the Netherlands. It's fun to observe how the interaction between our kids changes through the years and the friendship unfolds. It's funny to think that now the kids of one my oldest friends are the oldest friends of my kids.

Whenever the house is full of people, it's wise to make a cake. Cake is fast and easy and feeds many. It is the ideal snack to have on hand. Cake solves the "how can you be hungry again?" situation that occurs frequently with kids that are growing so quickly you can't buy them new trousers fast enough.
For this recipe I used my go-to cake recipe and then changed it a lot.
I was inspired to include cornflour by this recipe, which combines rhubarb and cornflour so successfully. It also doesn't hurt that it makes the cake appealingly yellow. But if you don't have it on hand, you can easily swap all-purpose (or regular polenta as one of my readers did). Orange, too, is known to go well with rhubarb. And cinnamon, of course.The ratio of rhubarb to dough is pretty high, the tart rhubarb refreshingly contrasting with the (not too) sweet dough. I made the cake three times already (once for a brunch) and it is always a good sign when a recipe is repeated shortly. I am sure will go back to it when the next rhubarb season rolls around. It is definitely a keeper.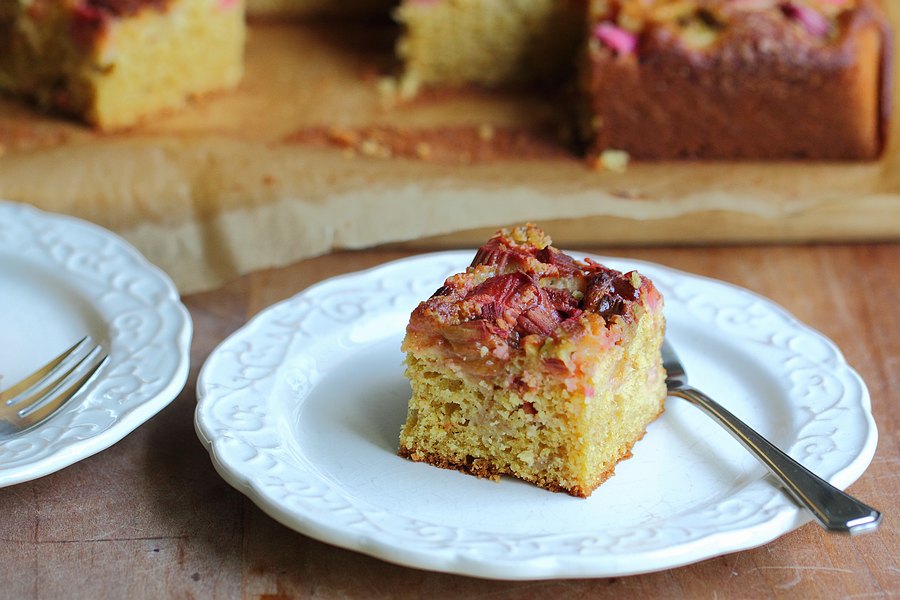 Rhubarb cornflour cake
150 g (1 cup) fine fine cornflour
150 g (1 cup) all-purpose flour
75 g (½ cup) whole wheat flour
2 tsp baking powder
1 tsp soda
pinch of salt
3 eggs
125 ml (½ cup) sunflower oil (or other neutral tasting oil)
250 ml (1 cup) yoghurt
100 g (½ cup) cane sugar
50 g (¼ cup) brown sugar
grated zest of one orange
juice of 1 orange (about 1/3 cup)
For the topping:
600 g (1 pound 5 oz) rhubarb, trimmed and diced
50 g (¼ cup) cane sugar
½ tsp ground cinnamon
Preheat oven to 180 degrees Celsius ( 360 F). Grease a 23 x 33 cm (9×13-inch) baking pan with oil, then line the bottom with parchment paper, extending the lengths up two sides.
In a medium bowl, mix all three flours, baking powder, soda and salt. In another bowl, mix eggs with oil, yoghurt, both sugars, orange zest and orange juice. Pour the wet mix into the flour mixture and mix, stirring only to combine.
Pour the batter into the baking pan and smooth with a spatula. Distribute the rhubarb on top. In a small bowl, mix sugar and cinnamon and scatter over the rhubarb.
Bake the cake for about 50 to 60 minutes. The cake is done when a tester comes out clean. Cool completely in the pan on a rack, then take out ans cut into rectangles.