So I baked a tart and was becoming slightly more optimistic about our new allotment and the survival chances of the trees and bushes that were moved to the new plot during the weekend. But then I had a chat with the guy who rented the plot before us. And he recommended using Roundup(!) on weeds around the edges of the plot. Like he always did. Mind you, ours is an organic allotment association, so this is actually forbidden. But he said nobody was to tell him what to do. As my son, who speaks in comic-book terms, would say: Argh!

Also, this seasoned gardener apparently never heard of soil improvement, so the soil has next to no structure and contains little humus. I started by moving some of our raised beds and filling them with several wheelbarrows of compost from our old compost heaps to do some emergency soil improvement, but really improving it will take years…
As sad as I am about what we had to leave behind, I view this as a chance to do a little good, and help a tiny piece of land to heal. No matter how long we stay, I am sure that whoever comes after us, will find this allotment in better state than it is now
.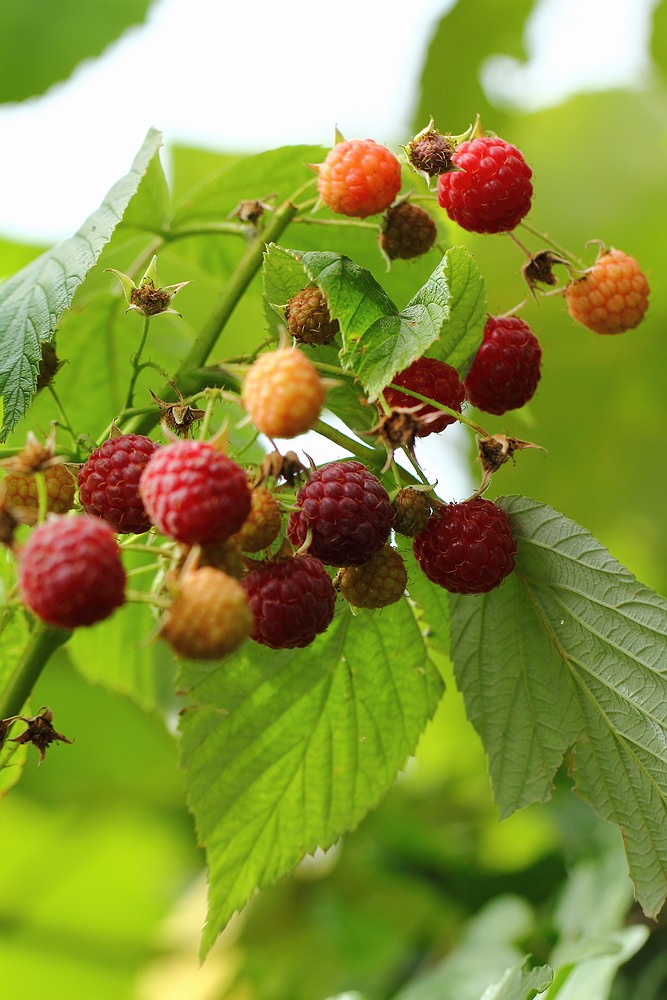 Another heart-warming part of this whole episode was how many people showed up to help us – friends, family. Even one of my husband's colleagues came to help us move trees on Saturday and declared it his mission to wipe the mournful look off my face and make me smile. And confronted with his unbreakable optimism and good-natured teasing, in the end, smile I did.

The first tart I made from the rustic rye dough was filled with a mixture of autumn raspberries and blackberries on a layer of ricotta custard. We are still picking some berries every day, but there would not be enough of them to fill a tart. Using a ricotta based custard, not only stretches the berries, but also makes for a well-balanced tart: crisp flaky crust, ricotta and slightly tart fruit. Just think about it. The second tart was filled with grapes from our edible forest garden. The grape is called "Sovereign Coronation". It's a very healthy grape of the labrusca variety producing seedless aromatic fruits.
Ricotta berry galette
You can either make a free-form galette or shape the tart in a tart pan.
Dough:
Rustic rye dough
Filling (enough for 2 tarts):
1 cup ricotta cheese
½ cream cheese
1 egg yolk
1 egg
1 tsp vanilla extract
5 tbsp (natural cane) sugar
Fruit (for 1 tart):
150 g (1 cup) raspberries
150 g (1 cup) blackberries
or
300 g (2 cups) seedless grapes
1 egg white (to brush the crust)
Preheat the oven to 190 degrees Celsius (380 Fahrenheit).
In a medium bowl, mix all the ingredients for the filling with a whisk. Divide the dough in half. Keep one half chilled while the other is being shaped. On a floured surface, roll the dough into a rough circle about 35 cm (14 inches). Transfer the circle of dough to a baking sheet lined with parchment paper. To form the tart, spread half the filling on top of the dough, leaving a 5 cm (2 inch) border. Scatter the berries or grapes on top of the filling and fold the border over the filling, pleating the edge to make it fit. The center will be open. Brush crust with egg white.
Alternatively, make the tart in a 24 cm (9,5 inch) loose-bottom tart pan.
Bake for about 35 to 45 minutes, until the filling is set and the crust dark golden-brown. Serve warm from the oven, or at room temperature.