Summer typically brings a dilemma. On one hand the garden is brimming with wonderful produce to cook with. On the other hand one's desire to cook typically diminishes as fast as the temperature rises. Luckily, summer produce usually doesn't need a lot of cooking.
We're still harvesting some sugar snaps and mangetout, they've been awfully productive this year. Those that don't end up as risotto, are often eaten this way, with pasta.
The time I spend in the garden picking the peas I consider relaxation and the time spent in the kitchen – well, it's really short. The dish is simplicity itself: the sauce is not cooked, the cheese melts when the hot pasta is added to the bowl, making an instant sauce. The herbs and lemon peel guarantee lots of flavor.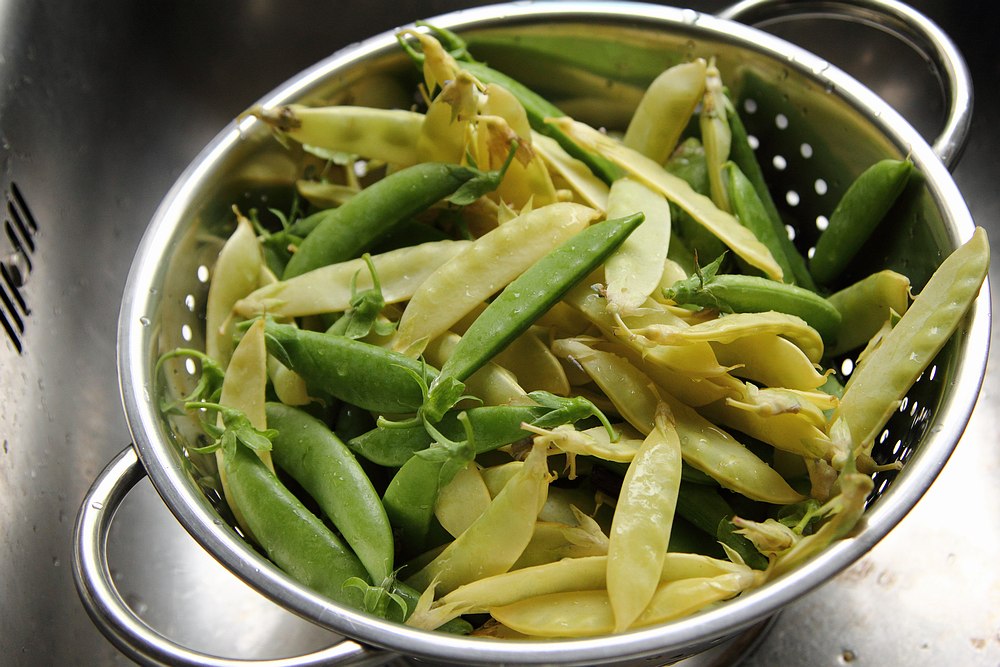 I also add a bit of garlic, because as you might have noticed, we're not opposed to garlic around here. The original recipe was made with asparagus, and I have made it like that, too. And sometimes with a mixture of asparagus and peas – all works. Just aim for roughly equal amounts of pasta and veg.
I prefer to cook the pasta and peas separately, to make sure they are both cooked just right. But if you're sure about your timing, or less concerned with perfection than the amount of pans you'll have to wash, you can add the peas to the boiling pasta, about 3 minutes before it's done.
Pasta with sugar snaps, mangetout and fresh goats cheese
Adapted from Bon Appetit
500 g (1 pound) spiral-shaped pasta (we are a fan of trotolle)
500 -600 g (1 pound to 1 pound 5 oz) sugar snaps and mangetout peas, strings removed
60 ml (1/4 cup) olive oil
1 tbsp finely grated (organic) lemon peel
1 clove of garlic, very finely chopped (optional)
1 tbsp chopped fresh tarragon and mint
200 g (7 ounces) soft fresh goat cheese (the pre-crumbled stuff will not melt as well)
Fresh lemon juice to taste
Cook both kinds of peas in medium pan of boiling water until done but sill crunchy, about 3 minutes. Cook your pasta in a large pot of well-salted water until al dente. Drain both pasta and peas, reserving one cup of pasta water.
Meanwhile, combine olive oil, lemon peel, herbs, garlic and cheese in a large bowl, breaking up the goat cheese as you put it in. Add hot pasta and both kinds of peas to the bowl, along with a couple slashes of the pasta water. Toss until smoothly combined, adding more pasta water if needed. Season generously with salt and pepper, and add lemon juice if you wish.