Broad beans (also known as fava beans) are the only hardy beans. That means that unlike other kinds of beans, they can be sown early. They can even be sown in November and left in the ground to overwinter, more or less successfully. I have found that the overwintered sowings produce a harvest only marginally earlier than beans sown in early spring and about 40% are lost to hungry mice and low temperatures. And so I don't bother anymore. This year I sowed two kinds of broad beans : the early "Aquadulce" and the pretty crimson  "Red Epicure". I have presown some on the window shield on 10th March and then sowed some more directly on 18th March. The earlier sown beans started cropping a couple of days earlier but the direct sown beans seem healthier. It also seems that the Red Epicure will be far more productive which I did not expect because in many varieties prettiness is at the cost of productiveness.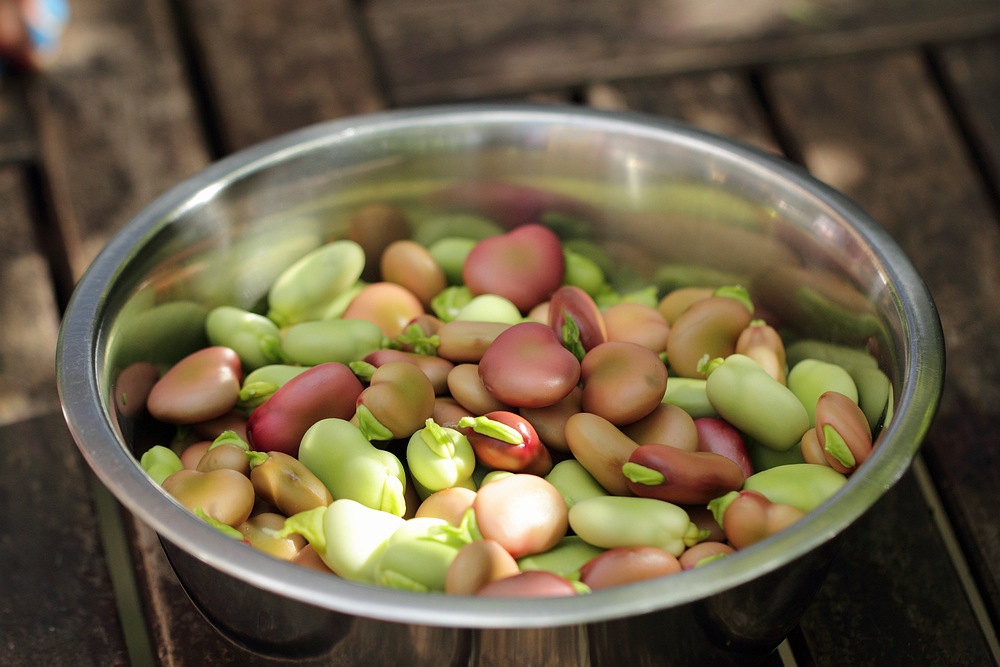 And so after almost 4 months the beans made it to the kitchen and after a couple of mixed salads I once again turned to Yotam Ottolenghi for a recipe. His way with beans is the opposite of the traditional Dutch approach (boil the hell out of it, no spices). Here the beans are gently simmered in a tomato sauce flavored with 6 different spices and then the dish is finished with the assertive flavor of fresh lovage. The original recipe calls for a mixture of sugar snaps, flat beans and broad beans, but since I only harvested the last, this is what I used. As long as the total weight is about 500 g, you're fine. And don't get fixated on the lovage either, if you don't grow it (it is very easy to grow!), just use cilantro.
Broad beans in tomato sauce with many spices
Adapted from Yotam Ottolenghi: Plenty
Serves 4
3 tbsp olive oil
1 medium onion, finely chopped
2 garlic cloves, chopped
2 tsp tomato purée
½ tsp each ground cumin, turmeric, cardamom and coriander
1 tsp ground ginger
pinch of ground cloves
400 g canned chopped tomatoes (with their juices)
1 tsp caster sugar
500 g shelled broad beans (about 1,75 kg unshelled)
2 tbsp chopped lovage
salt and black pepper
Heat up the oil in a large pan and add the onion. Sauté on a medium heat for 3 minutes, stirring frequently; add the garlic and cook for 1 more minute. Now add the tomato purée, spices and some salt and pepper and keep on cooking and stirring for another minute.
Next, add the tomatoes, sugar and the beans. Stir to mix. Bring to the boil, then cover and simmer gently for 15 – 20 minutes. Taste and add salt and pepper to taste. Stir in the lovage just before serving warm or cooled.
Rice is a perfect accompaniment to this abundantly spiced dish.